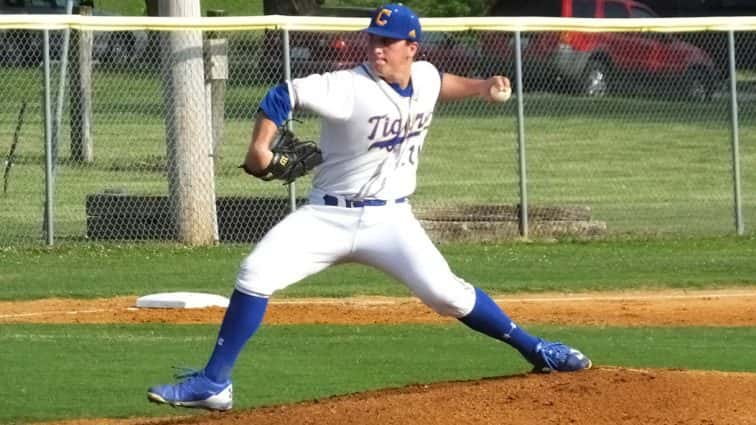 The Caldwell County Tigers honored their seniors Tuesday before their game against Lyon County, and then honored them in the game with a 10-2 win. The Tigers took control of the game with a six run second inning.
Lyon County took the early lead in the game scoring a run in the top of the 1st inning against Tiger ace Shane Burns. The Lyons used a hit batter and back to back singles, the run scoring one by Jack Walker to take a 1-0 lead.
Caldwell County got their offense going in the bottom of the 2nd inning. The Tigers opened the inning with four straight singles. The big hits were a two run double from Noah Brown and a two run single from Gabe East. By the time the Lyons could get out of the inning they were down 6-1, and that would be all the margin Shane Burns would need. The Tigers added another run in the bottom of the 3rd to extend the lead to 7-1.
After a tough first inning, Burns settled in and allowed just one more run, that in the top of the 4th inning on an RBI single from Christian O'Daniel to trim the Tiger lead to 7-2.
The Tigers came up with two more runs in the bottom of the 4th inning to extend the lead to 9-2. Gabe East connected for an RBI double and Jase Felker drove in a run with a single. Caldwell County added an insurance run in the bottom of the 5th inning on a sacrifice fly by Tate VanHooser.
For Caldwell County, Gabe East was 2-4 with 3 RBIs. Noah Brown went 2-4 with 2 RBIs and two runs scored. Bryce Thomas was 2-2 with an RBI and three runs scored. Lyon County was led by Gabe Board, who went 2-4 in the game. Christian O'Daniel was 1-2 with an RBI.
Shane Burns got the win for Caldwell County, going five innings, giving up two runs on five hits, striking out eight and walking two. Adian Rush took the loss for Lyon County, going 2 2/3, giving up seven runs on eight hits.