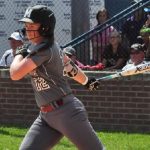 Christian County's bid to halt Madisonville's run atop the Second Region mountain came to an end with a 12-1 loss to the Lady Maroons in the championship game Wednesday. Madisonville scored six runs on six hits in the fourth inning to break open a close game and then kept the Lady Colonels at bay the rest of the way.
University of Alabama signee Kaylee Tow homered and drove in three runs, while Kentucky signee Mallory Peyton also homered and drove in four runs. Courtney Patterson doubled twice as part of a three hit night and drove in two runs.  She also picked up the win in the circle by scattering six hits and striking out three.
Regan Hancock and Tyler Shemwell each doubled and singled for the Lady Colonels, whose season ended with a record of 31-8.