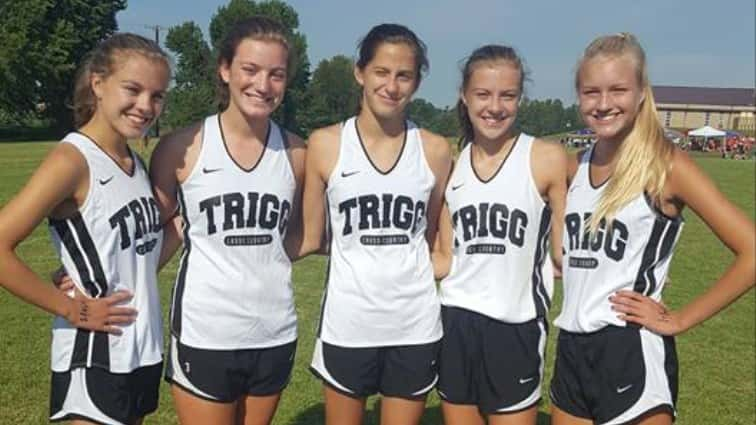 Trigg County's girls cross country team opened their 2017 season with a fifth place finish at the Madisonville-North Hopkins Invitational Saturday.  Sophomore Livi Ricks (22:18) brought home a ninth place finish, just over a minute behind the winner Brianna Carl of Madisonville. Lexi Ricks (23:15) finished 17th, followed by Rylee Bush (32nd), Phelan Dossett (40th), and Breenanna Barnes (51st).
Trigg County finished in fifth place with 119 points. Apollo (46) won the meet, followed by Graves County (52), Madisonvlle (75), and Hancock County (80).
John Chinn's 46th place finish paced the Wildcat boys' runners with a time of 20:50. He was followed across the finish line by Tyler Freeman (57th), Alex Skinner (63rd), Apollo Blackbear Francis (72nd), Jacob Kent (80th), and Walker Foutch (99th).
Trigg County finished 11th as a team. Owensboro Catholic won the meet, followed by Madisonville and Graves County.
In the middle school boys' race, Riley Thompson finished 17th for Trigg County, followed by Dallas Ahart (27th), Marshall Jenkins (29th), Austin Cavanaugh (61st), Gavin Papajeski (69th), Jeffery Hillyard (82nd), Gentry Hyde (106th), and Dustin Malburg (112th). Trigg County finished sixth as a team.
For the ladies, Reese Bush and Riley Brame each had top 20 finishes. Bush was 12th and Brame was 19th. Mari Kate Ricks was 47th, Rose Owen 52nd, Zoe Miller (59th), and Madison Jenkins (61st). Trigg's girls were fourth.
Trigg County will host the annual Fenton Dawson Invitational next Saturday at West Cadiz Park.