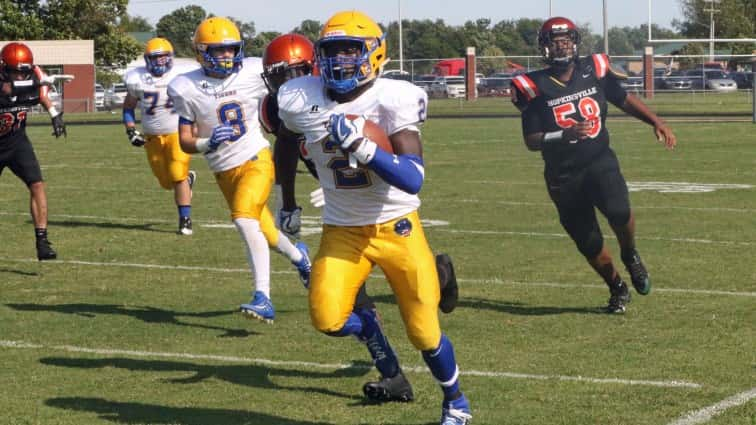 The Caldwell County Tigers football team used two touchdowns in the final 2:30 to come from behind and beat Hopkinsville 28-21 at the Stadium of Champions on Saturday afternoon.  The win moves Caldwell to 2-1 on the season, and Hopkinsville drops to 0-3.
After a slow start that saw both teams go three and out on their first two possessions, the game sprung to life when Hopkinsville blocked Caldwell's second punt and junior Jaime Cooper-Roman recovered the ball on the Caldwell 46 yard line.  However, Hopkinsville would lose the momentum they gained when they fumbled a lateral and Caldwell junior Caleb Burden scooped it up and returned it 54 yards for the opening touchdown.
Hopkinsville started the next possession with three straight penalties before junior quarterback Jay Bland hooked up with senior wide receiver Gavin Marschand for a 30 yard gain.  After being sacked by Caldwell senior defensive end Cole Baker on first down, Bland would hit senior tight end Andrew King for another big gain, setting the Tigers up with a 1st and 10 on Caldwell's 19 yard line.  After a false start penalty and a short passing gain, junior running back Jordan Hopson got Hoptown on the board with a 7 yard touchdown run.
Caldwell would punt as the first quarter ended, but quickly got the ball back around midfield when Hopkinsville's Bland fumbled on a Caldwell sack.  Caldwell would return the favor on first down with a fumble of their own, fallen on by Hopkinsville senior JaKevis Bryant.  Hopkinsville took full advantage this time, with Bland hitting his favorite target, Gavin Marschand, for a 65 yard touchdown.  The point after would be good, giving Hoptown a 14-7 lead.
After a touchback on the kickoff, Caldwell took over on their own 20.  Caldwell junior quarterback Joby Jaggers connected with junior wide out Oliver Parker to take the ball to the Hoptown 45, before junior Jameer Riley got in the end zone off a long run on a sweep play.
With the game tied at 14, Hopkinsville's next drive would end with a third down sack by Caldwell junior defensive end Mitchell Harralson, forcing a Hopkinsville punt.  Punter Taylor Harton uncorked a 52 yard punt, giving Caldwell the ball at their own 20.  The teams would exchange interceptions, first for Hoptown by senior Mitchell Degenhardt, then by Caldwell senior Hunter VanHooser, who stood out all afternoon for the Tiger defense.
With only seconds remaining in the first half, Caldwell went for it on 4th and 4 from the Hopkinsville 42, but Hopkinsville senior Taylon Sanders would sack Jaggers, with Hoptown taking over on downs at their own 35.  The Tigers would move the ball down the field with two completions and a Caldwell County personal foul, setting up a 30 yard field goal attempt that Harton would push wide as time expired in the first half.
Caldwell went three and out on the first possession of the second half.  A big punt return would set Hoptown up at the Caldwell 24, but after a sack Hopkinsville found themselves with a 4th and 2 at the 17 yard line.  Bland's pass fell incomplete, giving Caldwell the ball on downs.
Both schools would punt on the next three possessions, Caldwell twice and Hopkinsville once.  Hoptown began to move the ball downfield as time ran down in the third quarter, with two passes from Bland to Degenhardt and a first down run taking the Tigers to the Caldwell 23.
After a scoreless third quarter, Hopkinsville wasted no time in the fourth, scoring a little over a minute in on a 19 yard touchdown run from senior JaKevis Bryant.  Harton's PAT would be good, giving the Tigers a 21-14 lead.
A holding penalty stalled Caldwell's next drive, but a big punt pinned Hoptown on its own 3 yard line.  A short Hopkinsville punt gave Caldwell a 1st and 10 on the Hoptown 19 with 8:20 left in the game, but Caldwell would go backwards, including a JaKevis Bryant sack for a loss of twelve.  The Tigers sent out senior Boyce Nichols to try a 47 yard field goal, but it fell short.
Two holding penalties doomed the next Hopkinsville drive, resulting in a punt with 5 minutes left in the game.  Caldwell took over on their own 38, and two first down runs by junior Caleb Burden would get the Tigers to the Hoptown 37.  After an intentional grounding penalty pushed Caldwell back to the 45 yard line, Jaggers hit junior Trel Riley for a huge gain, giving the Tigers a 1st and 10 from the 12.  Junior Travis Newsom punched it in from there, tying the game at 21 after the PAT.
After a touchback on the kickoff, Hopkinsville would move the ball out to the 32 yard line on a completion to Marschand, but stalled there and had to punt.  Caldwell would get one more chance to end the game in regulation, taking over on their own 40 yard line with 1:09 left in the game.  Passes to Burden and Riley moved the Tigers to the 38, before a big completion from Jaggers to Parker gave Caldwell a first and goal from the 6.  An offside penalty on Hopkinsville moved the ball to the 1, and senior Dylan Gray would get in the end zone to take a 28-21 lead with 19 seconds left.  After being pinned deep on the kick off, Hopkinsville managed a couple of completions, but time ran out on them, leaving the Tigers with a loss in a game they looked set to win only a few minutes before.
Hopkinsville will continue to search for its first win next week against the unbeaten Christian County Colonels, while Caldwell will ride two straight wins into a matchup at Crittenden County (1-2).