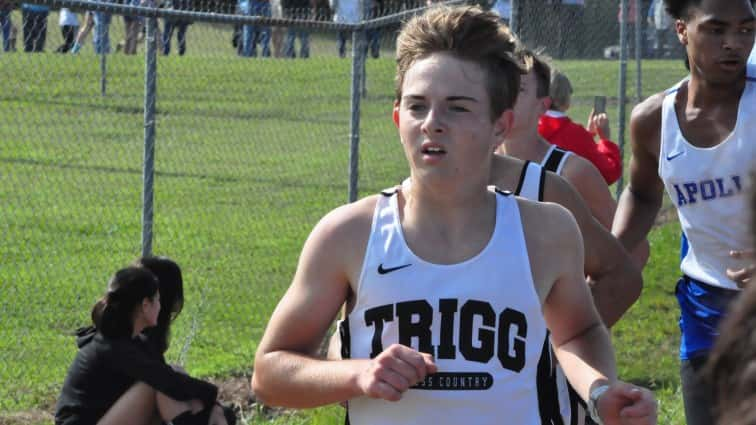 Trigg County's Livi Ricks brought home a very respectable 21st place finish Saturday in one of the largest cross country meets in western Kentucky this season. Ricks finished in 21st place in a time of 22:17 over the 3.1-mile course.
Lexi Ricks finished in 67th place, followed by Breeanna Barnes (86th), Phelan Dossett (91st), Grace Hill (100th), and DeDe Barbie (122nd).
Owensboro's Breanna Alderton was the only runner to break 20 minutes, finishing the 3.1-mile course in 19:19. Alaina Baumgart of Notre Dame (Cape Girardeau) finished second in 20:14.
The girls' varsity race featured 195 runners and 17 teams.
Jackson High, TN won the event, edging Daviess County by eight points. McCracken County was fourth. Trigg County finished 11th as a team.
In the boys' varsity race, Apollo Blackbear Francis led the Wildcats with a 93rd place finish in 20:02. Next across the line for the Wildcats were John Chinn (135th), Jacob Kent (136th), Tyler Freeman (150th), Alex Skinner (151st), Marshall Jenkins (158th), and Walker Foutch (188th).
There were 312 runners and 25 teams in the boys' varsity race. Henry County, TN brothers Titus Winders (16:10) and Silas Winders (16:20) finished 1-2 in the race. That helped Henry County win the competition with 95 points, ahead of second place Apollo (126) and third place Marshall County (137). Trigg County finished in 17th place.
In the middle school boys' race, sixth grader Riley Thompson led Trigg County with a 31st place finish in 17:42. He was followed by Austin Cavanaugh (48th), River Oliver (49th), Justin Mitchell (94th), and Dustin Malburg (119th). As a team, Trigg Middle finished in 10th place.
Trigg County's girls finished seventh in the middle school girls' race led by fifth grader Reese Bush's 13th place finish in a time of 18:00. Rose Owen finished 37th, followed by Mari Kate Ricks (38th), Riley Brame (53rd), Madison Jenkins (70th), and Zoe Miller (71st).
In the elementary school girls' race, Savannah Oliver finished 37th.
Eli Hill finished 42nd in the elementary boys' race.