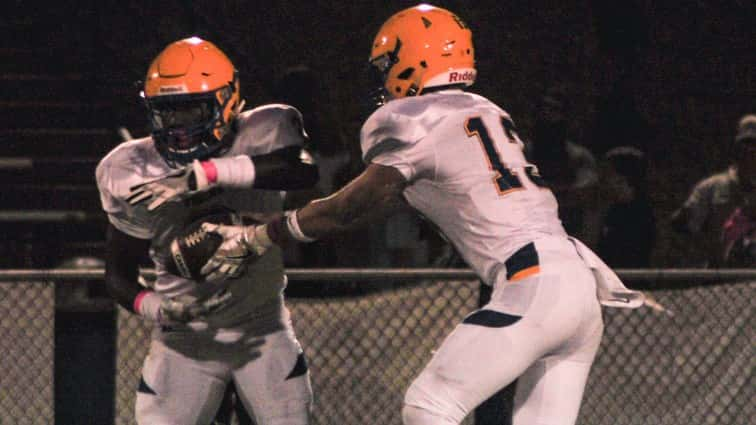 Joby Jaggers threw for 305 yards and three touchdowns as Caldwell County wrapped up the top seed in Class 3A District 1 Friday with a 37-6 win at Trigg County. The Tigers are 3-0 in district play and will host Fort Campbell next week.
Jaggers threw two touchdown passes to Oliver Parker, who had four catches for 117 yards. Parker was one of four Tiger receivers with four catches on the night.
Jaggers and Parker connected from 38 yards out with 7:32 left in the first quarter for the first score of the game. Dylan Gray added a 2-yard run four minutes into the second quarter for a 13-0 lead. The Tigers closed out the first half scoring when Jaggers hit Jameer Riley on a 13-yard screen pass with 1:40 left before halftime.
Jaggers connected with Parker on the second play of the second half on a 55-yard scoring strike for a 27-0 lead. Boyce Nichols banged home a 28-yard field goal and Jameer Riley added a 5-yard run to close out Caldwell's scoring.
Trigg County got on the scoreboard on an 8-yard run by Jakobe Bridges against the Caldwell County reserves with 2:22 left.
Caldwell outgained Trigg County 368-120. However, the Tigers were whistled for 17 penalties for 165 yards. Trigg was flagged 11 times for 96 yards.
Trigg County quarterback Cam Jordan was held to minus-4 yards rushing on 12 carries. He was 10-of-15 passing for 72 yards and an interception.
Caldwell County has beaten Trigg County five straight times for the first time since 1981 and lead the all-time series 42-22-1.
The Tigers are 7-1 overall and have won seven straight games. They host Fort Campbell next week.
Trigg County drops to 4-4 overall and 1-2 in district play. They welcome Hopkins County Central to Perdue Field Friday.