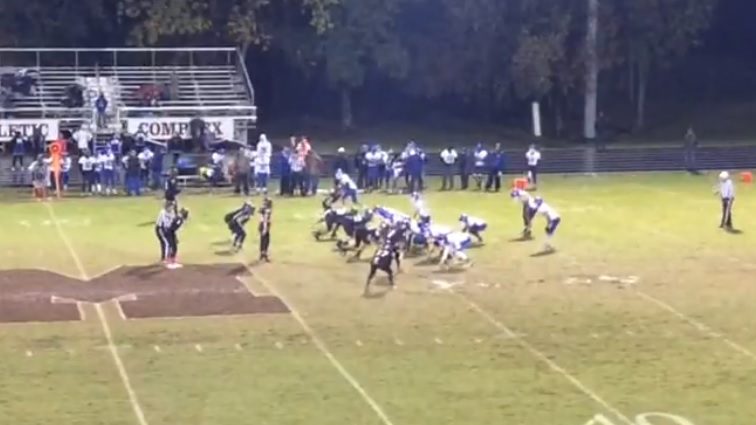 Mounting injuries and a lack of depth were too much for the Fort Campbell Falcons to overcome in their season finale Friday night. In rainy and muddy conditions, the Falcons fell to Madisonville 37-6. After failing to win a game in district play, Fort Campbell will miss the playoffs for the first time since 2001.
After holding the Falcons on the first possession of the game, Madisonville drove the ball down the field and capped off their first possession with a 16-yard run from D.J. Slaton to take a 7-0 lead. Fort Campbell looked they were going to make a battle of it early, scoring just 20-seconds later on a Julian Roberts 61-yard run to cut the lead to 7-6.
Slaton scored again in the first quarter, taking it in from 3-yards out with 1:52 left to extend the Maroon lead to 14-6. In the second quarter, Jeriah Hightower scored on runs of 41-yards and 3-yards, and the Maroon defense added a safety, as Madisonville led at the break 30-6.
Madisonville got things rolling again quickly in the second half, as Dathan Brackney scored on a 5-yard run with 9:53 left in the 3rd quarter to push the lead to 37-6. Less than a minute later, a Falcon player was injured and moved to a waiting ambulance. He was the fourth Falcon to be transported by ambulance over the last two games. During the injury stoppage, the coaching staff at Fort Campbell requested the running clock be implemented.
Neither team would score over the rest of the shortened game.
The Falcons could only muster 70-yards of total offense in the contest, with all of that on the ground. Madisonville had 295-yards rushing, and 304 yards of total offense.
Fort Campbell wraps up the season with a record of 2-8, while Madisonville improves to 6-4. The Maroons wil host Allen County-Scottsville in the first round of the Class 4A playoffs next Friday night.