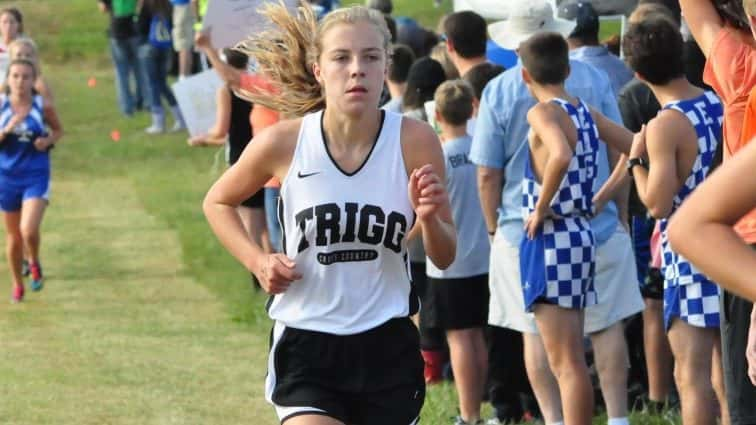 Trigg County had several runners named to the All-Area Cross Country Team, and Coach Ken Harrison was named the Class 2A Area 1 Girls' Coach of the Year.
Class 2A Region 1 winner Livi Ricks was named the co-2A Runner of the Year along with Paducah Tilghman's Madeline Strenge and Calloway County's Jayne Bishop.  Ricks was also was named to the All-Area Second Team for all classes.
Also named to the All-Area Class 2A First Team were Trinity Cavanaugh, who finished 86th at the Class 2A State Meet and Lexi Ricks, who finished in the top five at the Region 1 Meet.
Named to the Second Team Class 2A All-Area Team were Dede Barbie and Rylee Bush.
For the guys, Apolo Blackbear Francis was named to the Class 2A All-Area Second Team. Francis was sick the week of the state meet and did not run after qualifying at the region meet.
Reese Bush was named to the All-Area Middle School Second Team.
ALL-AREA 1 OVERALL GIRLS
First Team
1) Maggie Aydt (McCracken County) – Runner of the Year
2) Maggie Dowdy (McCracken County)
3) Brianna Carl (Madisonville-North Hopkins)
4) Muki Kunnmann (University Heights)
5) Alexia Minter (Marshall County)
6) Carly Dowdy (Graves County)
7) Madelyn Waltmon (St. Mary)
Second Team
1) Madeline Strenge (Paducah Tilghman)
2) Livi Ricks (Trigg County)
3) Alyssa Shelton (Henderson County)
4) Abby Farmer (McCracken County)
5) Katie Adams (Graves County)
6) Meghan Easton (Hopkinsville)
7) Marlena Sipes (Fulton County)
Coach of the Year
Maria Grogan (McCracken County)
All-Area 1 Class AA Girls
First Team
1) Madeline Strenge (Paducah Tilghman) – Runner of the Year
2) Livi Ricks (Trigg County)
3) Jayne Bishop (Calloway County)
4) Hadley Mitchell (Webster County)
5) Addie Rogers (Paducah Tilghman)
6) Lexi Ricks (Trigg County)
7) Trinity Cavanaugh (Trigg County)
Second Team
1) Rylee Bush (Trigg County)
2) Kate Rogers (Paducah Tilghman)
3) Hadley Mitchell (Webster County)
4) Kourtney Lucas (Union County)
5) Madison Ruggles (Ft. Campbell)
6) Madison Ruggles (Ft. Campbell)
7) DeDe Barbie (Trigg County)
Coach of the Year
Ken Harrison (Trigg County)
All-Area 1 Class AA Boys
First Team
1) Ryan Roland (Webster County) – Runner of the Year
2) Hayden Smith (Hopkins County Central)
3) Layden Wagoner (Webster County)
4) Aiden Wildman (Webster County)
5) Wyatt Dunham(Calloway County)
6) Ethan Putty (Hopkins County Central)
7) Noah O'Dell (Webster County)
Second Team
1) Rafael Cerritos (Ft. Campbell)
2) Jake Taylor (Paducah Tilghman)
3) Garrett West (Webster County)
4) Andrew Sincere (Ft. Campbell)
5) Sam Almon (Hopkins County Central)
6) Apollo Blackbear Francis (Trigg County)
7) Elijah Middleton (Paducah Tilghman)
Coach of the Year
Todd Whitsell (Webster County)
All-Area 1 Middle School Girls
First Team
1) Joy Alexander (James Madison/Madisonville) – Runner of the Year
2) Jayne Bishop (Calloway County)
3) Alexia Minter (South Marshall/Marshall County)
4) Rhaea Mathis (Graves County)
5) Alyssa Shelton (Henderson North)
6) Kimberly Hoover (Dawson Springs)
7) Joslynn Espinoza (Ft. Campbell)
Second Team
1) Emma Madding (Fulton County)
2) Hallie Mattingly (Henderson North)
3) Ella Byers (McCracken County)
4) Sara Krampe (Henderson South)
5) Aujha Robinson (Graves County)
6) Reese Bush (Trigg County)
7) Piper Hancock (University Heights)
Coach of the Year
Andrew Clinton (Marshall County)