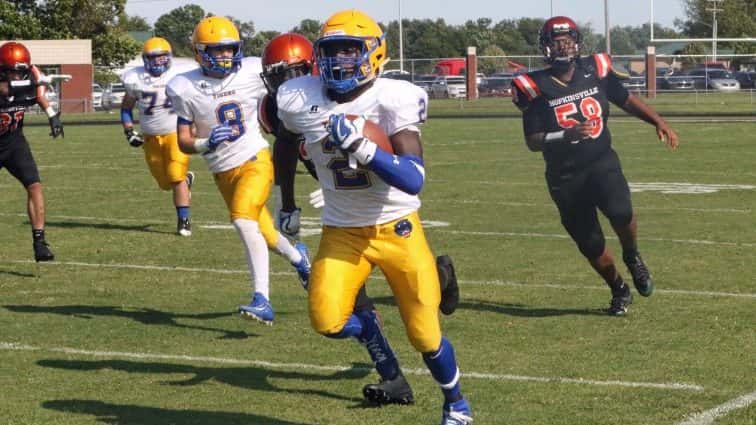 Caldwell County's successful football season was capped off with the naming of 11 players to the All Western Kentucky Conference Football Team. They are:
Junior quarterback Joby Jaggers – completed 204-of-297 passes (68.6%) for 2,422 yards and 28 touchdowns in his first season as starting quarterback.
Junior receiver Travis Newsom – Tied for the team lead with 48 catches, good for 665 yards and seven touchdowns for the Tigers.
Junior receiver Oliver Parker – Caught 46 passes for a team-high 777 yards and eight touchdowns.
Junior running back Jameer Riley – rushed for 716 yards and a team-high nine touchdowns. Also had two interceptions on defense, including a pick-six.
Senior linebacker Hunter VanHooser – Recorded 138 tackles this season, including 33 solo tackles and leaves Caldwell County as the school's all-time tackles leader.
Senior linebacker Will Beshear – Notched 100 tackles for the Tigers, including 37 solo tackles. Also had two fumble recoveries and an interception.
Senior linebacker Dylan Gray – Had 90 tackles on defense, including 32 solo tackles. He had two fumble recoveries and two interceptions on defense. Also had eight rushing touchdowns on offense.
Junior linebacker Caleb Burden – Recorded 100 tackles on the season with 19 of those solo tackles. Also recovered two fumbles and returned one of those for a touchdown.
Senior defensive end Cole Baker – Led the Caldwell County defensive linemen with 83 tackles, with 22 of those solo tackles. Also recovered a fumble.
Junior cornerback Trel Riley – Led the Tigers with eight interceptions, including a pick-six. Also had a fumble recovery and 29 tackles. On offense, Trel had 29 catches for 272 yards and five scores.
Junior safety Gabe East – Had 44 tackles and an interception for the Tiger defense. Also caught two touchdown passes.