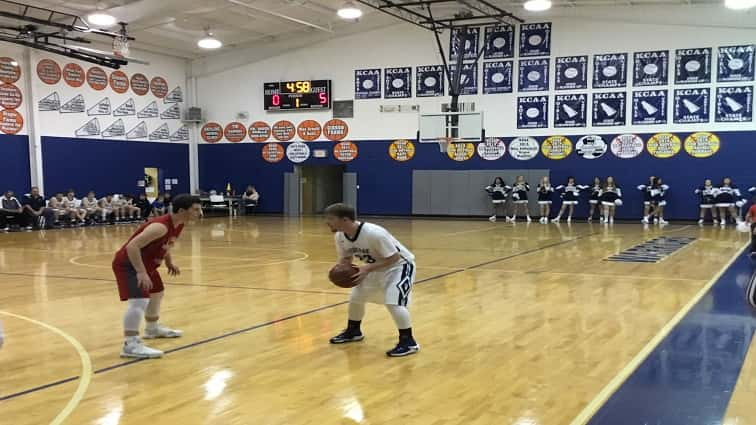 The Heritage Christian Academy boys' basketball team saw their rally fall short on Friday night, losing 74-65 to visiting Oak Ridge Christian Academy.  Oak Ridge improves to 9-1, while HCA is on a three game skid and stands at 4-3.
HCA started slowly, and found themselves down 5-0 with 5:35 left in the opening quarter.  After the first eight minutes, Oak Ridge had run out to a 17-9 lead.  A minute into the second quarter, junior Gavin Fowler hit a 3 to cut the lead to 18-12, and four minutes later a layup by junior Austin Crawford pulled the Warriors to within 2 at 26-24.  However, they couldn't get any closer and Oak Ridge took a 34-29 lead into halftime.
Crawford kept the Warriors in the game in the first half with 13 points, followed by 8 for junior Dalton Folz, and 6 for Fowler.
It only took two minutes after halftime for Oak Ridge to double their lead at 43-33.  With 4:34 left in the quarter, Oak Ridge had pushed the margin out to 15 at 49-34.  After halftime, the Warriors had clearly made more of an effort to get the ball down low to Folz, as his touches were limited in the first half.  They also turned up the intensity in their play that might have been lacking at times in the first half.  As a  result, the game got chippy, and an altercation at mid court with 1:47 left in the third quarter led to the ejection of Folz, as well as three Oak Ridge players.  When play began again, junior Rajah Mills took over, scoring the next 7 points for the Warriors, and trimming the lead to 53-47 going into the fourth quarter.
With Folz out, Oak Ridge again began to build their lead, going up by 10 with 3:54 to play at 60-50.  However, Gavin Fowler wasn't going quietly, as he scored 8 straight points to get within 6 at 64-58.  Fowler particularly got it going after the ejections in the third quarter, scoring 20 second-half points to keep the Warriors in the game.
Ultimately, HCA couldn't get closer than 4, and the game slipped away for good when Oak Ridge scored on a run-out to make it 70-62.  Oak Ridge ran out the last seconds of the game to secure a hard-fought win against their big rival.
Fowler's 26 points led the Warriors, followed by Crawford with 14, and Folz with 12.  Mills finished with 11, sophomore Elijah Britton had a basket, and senior Kam Cunningham had a point.  Juniors Josh Jones and Dakota Brake were not available for the Warriors.
The Warriors will look to snap their losing streak on Saturday when the travel to Liberty, KY to face the 5-2 Galilean Christian Academy Eagles.