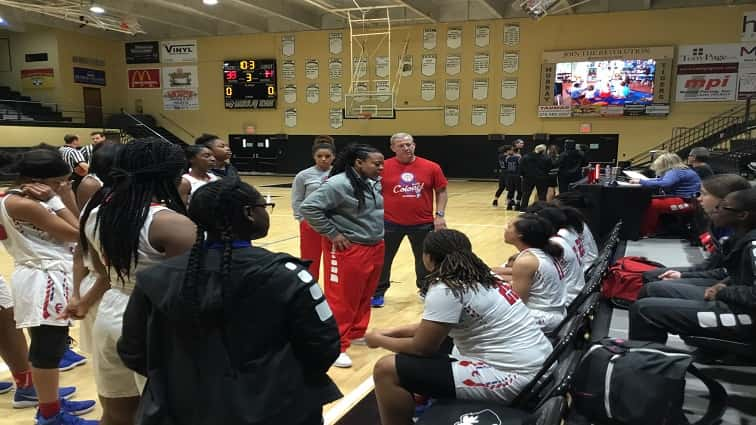 The Christian County girls' basketball team opened The Murray Bank Lady Tiger Classic with two losses, but closed with a big 76-43 win over North Hardin (2-11) on Saturday morning.  The win gave the Lady Colonels 5th place in the tournament, and improved their record to 11-4 on the year.
While slow starts had plagued the Lady Colonels in the first two games in Murray, they hit the court running against the Lady Trojans and led 21-8 after the first quarter.  North Hardin struggled against Christian County's press, and with the game tied at 6, a three-pointer by junior guard Aaliyah Hampton started a 15-2 run to close out the period.
The Lady Colonels continued to pressure the Lady Trojans in the second quarter, stretching their run to 30-4 after a Hampton jumper with 2:26 to play until the break.  They led 38-14 at the half, paced by Hampton's 12, followed by senior center Trinitee Jackson's 8.  All five starters got on the board in the first half, with junior guard Kinara Phillips, senior guard Laderia Gold, and freshman forward Trinity McGee all scoring 6 each.
The Lady Colonels continued to pull away in the third, outscoring the Lady Trojans 26-16 to lead 64-30 on the strength of Jackson's 10 points in the period.  With the game in hand, Coach Kiki Radford pulled all her starters a minute into the fourth quarter, allowing the bench to finish things off for the 76-43 win.
Hampton led all Lady Colonel scorers with 22, and was named Player of the Game for the second time in three days.  Jackson followed with 20, Gold had 9, and McGee scored 8.  Phillips didn't score in the second half and finished with 6, as did sophomore guard Lydashe Bell.  Freshman forward Serenity Shemwell chipped in a bucket to wrap up the Lady Colonel scoring.
Christian County will begin the New Year with a trip to Barren County on January 5th, to face the 8-4 Trojanettes.