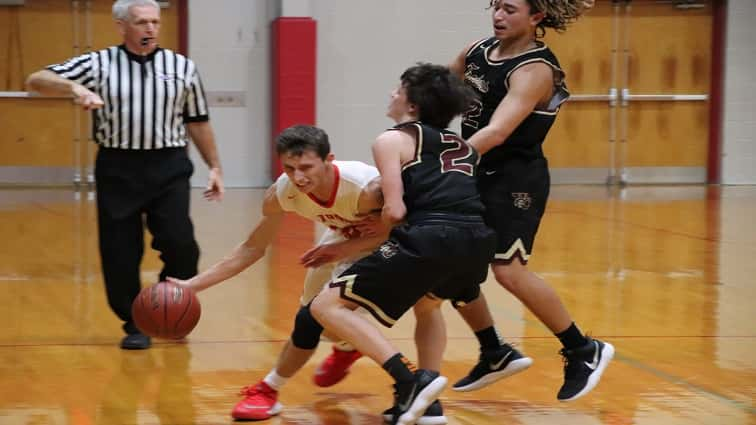 The Todd County Central boys' basketball took down the visiting Webster County Trojans 60-37 on Tuesday night, avenging a 73-65 loss to the host Trojans in the Baptist Health and Sports Rehab Holiday Classic on December 21.  Webster have now lost three straight to fall to 12-7, while the Rebels improve to 11-8.
The teams played a tight first quarter, with the Rebels taking a slim 13-12 lead after eight minutes.  In the second quarter, Todd County ramped up their defensive effort, holding the Trojans to 8 points and taking a 25-20 lead into halftime.
Senior guard Nolan Barrow led the Rebels in scoring with 9, followed by junior center Jon Calvery's 8.  Senior guard Chatman Ellis had 11 first-half points for the Trojans.
Todd County continued to tighten the defensive screws in the third quarter, only allowing Webster to score 4 points.  The Rebels weren't burning up the nets either, only scoring 11, but still opened up a 12 point advantage at 36-24 heading into the final frame.
The Rebels got hot in the final quarter, outscoring the Trojans 24-13 to put the game away.  Barrow scored 9 in the final period, and senior center Collin Sharp added 7.  Senior guard Tashaun Foster chipped in 6, and Todd County cruised to a 60-37 win.
Barrow led the team in scoring with 21, with Foster pouring in 12, all in the second half.  Calvery finished with 10, and Sharp and sophomore guard DJ Johnson both had 7.  Sophomore forward Austin Rager rounded out the scoring with 3.  Ellis ended up with 13, after being held to only 2 second-half points.
The Rebels return to action on Friday when they go on the road to face the Franklin-Simpson Wildcats (5-14).  Todd County beat the Wildcats 67-48 in Elkton on January 5.