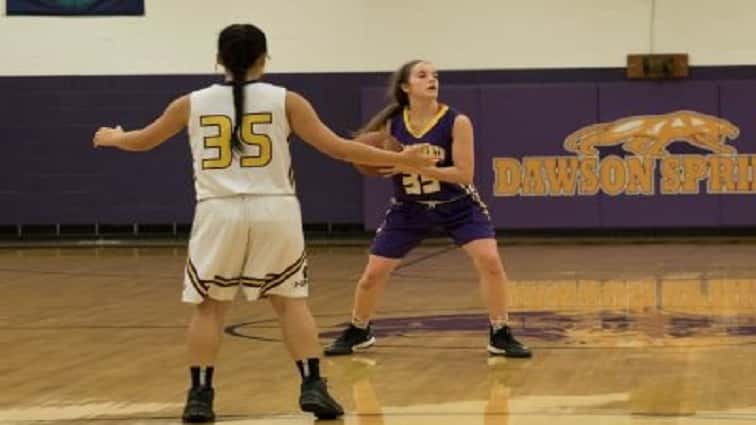 The Lyon County girls' basketball team used a stifling first-half defensive performance to take an early lead, and held on for a 49-35 road win over the Hickman County Lady Falcons on Monday night.  The Lady Lyons win their second straight and six of their last seven, improving to 18-7 overall.  Hickman County sees a three-game win streak snapped, slipping to 13-12.  The Lady Falcons beat Lyon in the teams' first meeting, a 38-37 decision on December 30 at the 1st Lady Warrior Shootout at Community Christian.
Lyon County held the Lady Falcons to single digits in each of the first two quarters, taking a 13-6 lead after the first eight minutes, and a 24-10 lead at the halftime break.  Junior power forward Allison Murphy led the Lady Lyons with 9 first-half points, putting her within 1 point of 1,000 for her career.  Senior forward Hannah Holloman was next with 8 points.  For Hickman County, freshman guard Kadey Wilkey and sophomore center Leigh Ann Jones combined for 8 of the 10 points scored, with each posting 4.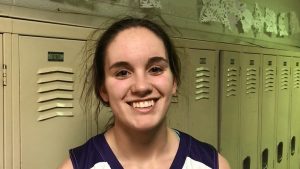 The Lady Falcons picked up the pace after halftime, but Lyon County still outscored them 12-11 in route to a 36-21 lead going into the final frame.  Murphy surpassed 1000 career points for the Lady Lyons, and the game was stopped briefly to recognize her achievement.  The teams traded baskets throughout the last eight minutes, with the Lady Falcons winning their first quarter of the game, 14-13.  Nonetheless, Lyon County went on to wrap up its 18th win of the year, 49-35.
Murphy paced the Lady Lyons with 13 points and 10 rebounds, joined in double figures by senior shooting guard Sophie Bingham with 11, and Holloman with 10 points and 10 boards.  Freshman forward Calista Collins scored 9, including 7 in the third quarter, and pulled down 9 rebounds.  Freshman guard Kenttavia Matthews, 8th grade forward Rose Smith, and 7th grade forward Ella DeFew chipped in 2 each.  Wilkey led the Lady Falcons with 13 points, including 9 in the fourth quarter, followed by Jones with 8, and senior Ally Samuel with 7.
The Lady Lyons have a big test coming up on Tuesday, traveling to Hopkinsville to face the 17-8 Lady Tigers.