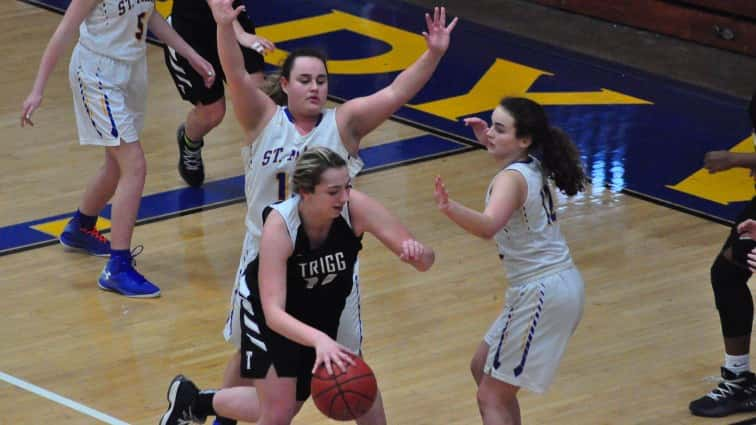 It was a milestone night for Lauren Oliver, who topped 1,000 career points in Trigg County's 56-43 win at St. Mary Monday. The Lady Wildcat senior scored the milestone bucket on a second quarter putback, which was appropriate. Oliver is closing in on becoming the school's all-time leading rebounder as well.
She finished the night with 17 points and 20 rebounds, and the Lady Wildcats would need them all to top a game St. Mary squad.
Trigg led 14-7 after one quarter, but missed 10-of-13 shots in the second quarter while St. Mary knocked down 7-of-8 free throws and outscored the Lady Wildcats 17-7 in the frame to lead 24-21 at halftime.
Katelyn Slone came out in the third quarter and hit four 3-pointers to help the Lady Wildcats outscore the Lady Vikings 23-12. St. Mary closed the gap to 44-42 with 4:27 left, but Slone's fifth 3-pointer of the night started a 10-0 run keyed by 7-of-8 shooting at the free throw line.
Slone finished with 15 points – all in the second half. Bethany Stallons added six points and six assists, and freshman Adri Phillips scored four points and pulled down 12 rebounds, helping the Lady Wildcats outrebound St. Mary 46-38.
Trinity Higgins had 15 points to lead St. Mary, who fell to 6-23 with the loss.
Trigg County (8-15) will travel to McCracken County Tuesday in the first-ever matchup with the schools. McCracken is coached by former Trigg basketball standout and Lady Wildcat assistant coach Scott Sivills.