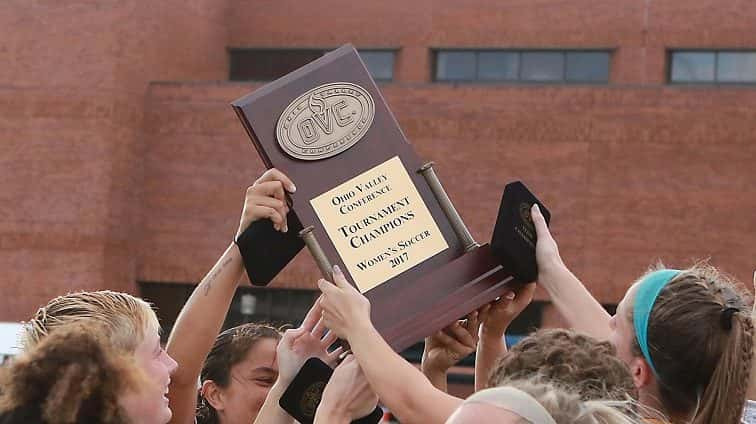 After winning their third Ohio Valley Conference tournament in four years and making the NCAA tournament; the Racers look to keep the trend going, adding eight freshmen who look to make their mark on the program. "I'm very excited to introduce our 2018 class. The coaching staff has worked tirelessly in recruiting a class that we are confident can come in and fight for playing time immediately. All eight players possess the athletic ability, technical ability and more importantly the mental toughness needed to compete at this level," said first-year head coach Matt Lodge.
Ellie Lewis (Zionsville, Ind. / Zionsville Community HS)
Lewis joins one of the best defensive units in the OVC. Playing in 18 games last season for the Eagles, Lewis makes herself know offensively as well, scoring three goals and three assists for nine points. In her four years at Zionsville, Lewis recorded 15 goals and four assists for 34 points.
"Ellie is a fullback who likes to get forward and join in the attack. An athletic player who puts the team first, reliable on the ball and also capable of playing multiple positions. Ellie is well suited to our playing style and I'm eager to see her in our environment"
Lydia Grogan (Murray, Ky. / Murray HS)
A local product, Grogan has been striking fear into defenders for the last four year at Murray HS. She holds the record for single-season and career goals for the Tigers. Grogan finished with 126 goals.
"She's a local kid who I'm sure most will know as she's had an outstanding high school career at Murray High. A crafty attacking player who will help create goal scoring opportunities. Lydia is capable of scoring all kinds of goals, she can use both feet and loves running with the ball. I'm looking forward to seeing Lydia compete at the next level."
Arianna Mendez (Louisville, Ky. / Eastern HS)
A hard-working midfielder coming from Eastern HS, Mendez was named an All-District and All-Region player.
"Another crafty playmaker who isn't afraid of doing the dirty work. Ari is a player who can play multiple positions, has a blue-collar attitude and is willing to fight for her teammates. She is a player who fits in with our teams playing style, I am confident that she's going to push her way onto the field."
Marley Hall (Coral Springs, Fla / Marjory Stoneman Douglas HS)
A forward from Coral Springs, Hall was named All-County in for the 2016-17 season as well as the leading scorer for the Eagles the past four years.
"She's an athletic forward who will help stretch the game with her runs in behind. Marley has a knack for creating chances in front of goal, she will come in and add depth to our already strong front line. I'm excited to work with her this season and beyond."
Cera Prather (Acworth, Ga. / Allatonna HS)
The lone goalkeeper signed this year for the Racers, Cera looks to add depth behind Alex Steigerwald. The former Buccaneer was named to the All-Region Team.
"A Goalkeeper who's played at a great club program in SSA Chelsea in Georgia. She has great hands, shot stopping ability, and is very good with her feet. Her distribution is something that again will help Murray State play the brand of soccer we have made here. I'm looking forward to seeing her compete with Alex and Kaelynn this fall."
Abby Jones (Powell, Ohio / Olentangy Liberty HS)
A high octane forward from Ohio, Jones looks to become yet another option for the Racers to go to. A 2017 OCC All-League Team Member, Jones was responsible for two goals in the 2017 state cup final. Jones also made the Midwest Regional Olympic Development Program team in 2017.
"Here at Murray state we've made a reputation for having great forwards and goal scorers, Abby is a player who fits that mold. A highly talented forward who's had spells with the US regional team. Abby is a natural goal scorer who has the ability to hold the ball and use her speed to make runs behind. She is a well-rounded forward who can not only score but links up play very well and gets players around her involved. I'm very excited to start work with Abby, I know she will come in and have an immediate impact on our team."
Joselle Morché (Lawrenceville, Ga. / Peachtree Ridge HS)
A defender from Peachtree Ridge, Ga., Morche was a four-year starter, named Super Six Player of 2018 and Defensive MVP in 2017.
"Jozy is a. athletic center back who reads the game very well, and someone we expect to come in and help solidify our backline. She is very technical and comfortable on the ball, and will help us play the way we want here at Murray State. She's had experience in the national team set up and has been playing at a very high level most of her career. I've been looking forward to working with her and I'm excited she is joining our program."
Katie Bickers (Henderson, Ky. / Henderson County HS)
A hard working mid-fielder from Henderson, Ky., Bickers looks to add that extra spark to the Racers midfield in the upcoming season. Bickers is a four-time district champion as well being named to the All-Region and All-District team
"A hard-working midfielder who is the engine room for every team she plays in. She is a player you can always rely on, she will keep the ball moving for us and will compete for every ball in the midfield. Katie can be a big player here at Murray State and we are excited to get her on campus in August."
(Courtesy MSU Athletics)