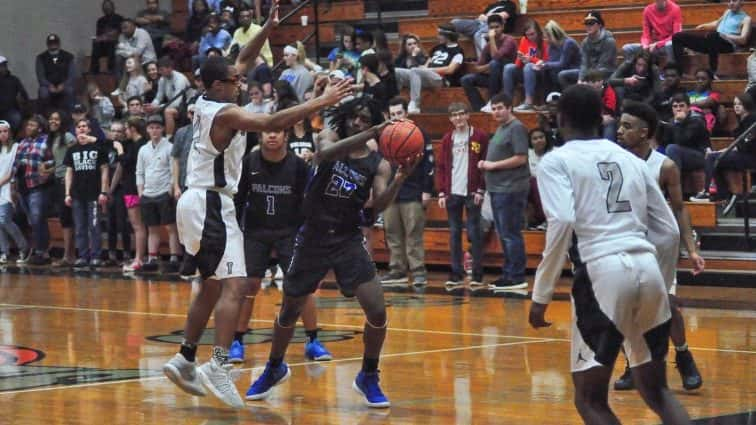 Jorden Clark may be the best player you've never heard of. The Fort Campbell sophomore scored 26 points and pulled down 17 rebounds to lead the Falcons to a 67-59 win over Trigg County Thursday in Cadiz. The Falcons have now won two of their last three games.
Clark was active all night, grabbing five offensive rebounds and getting five steals.
Early on, it was the Wildcats who started strong on their senior night. Trigg's five seniors started together for the first time this year and got the Wildcats out to a 19-9 lead. Fort Campbell scored the last four points of the quarter to cut the lead to 19-13.
Trigg's reserves in the second quarter couldn't match the energy as the Wildcats shot just 2-of-13 from the field and saw Fort Campbell outscore them 14-4 in the quarter and grab a 27-23 lead at halftime.
DeOvion Day scored the first six points of the third quarter to give the Wildcats a 29-27 lead, but the Falcons answered with eight straight, and the Wildcats never led again.
Trigg tied the game at 50 with 4:05 left, but Clark scored eight points to key a 14-4 Falcon run that sealed the win.
Any Wildcat comeback attempt was snuffed at the free throw line where the Wildcats shot 5-of-12 in the second half and missed the front end of three bonuses.
Cameron Johnson joined Clark in double figures with 18 points and six rebounds.
Devron Triplet led Trigg County with 24 points, six rebounds, and six assists. Day added 10 points and five rebounds.
Fort Campbell (5-18) will play Christian County in the Eighth District Tournament Monday at Lyle Dunbar Gymnasium.
Trigg County (11-13) ends the regular season on a six-game skid and will play Lyon County in the Fifth District Tournament Monday at Crittenden County.