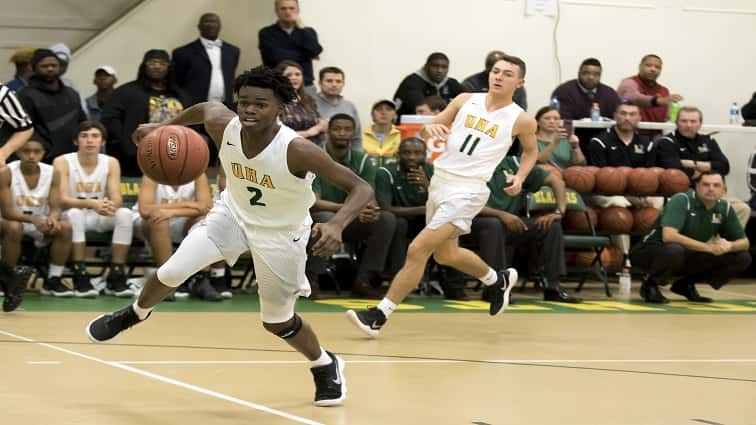 University Heights Academy got a tough challenge from visiting Webster County on Friday night, ultimately winning 62-50 to end the regular season.  The Blazers have won four straight and five of six to improve to 18-7 overall.  The Trojans have a four-game win streak snapped, slipping to 17-10 on the year.
Neither team could get separation in the first quarter, and the teams were knotted at 12 at the end of eight minutes.  Junior guard Kyky Tandy followed up his 7 first-quarter points with 6 in the second, and the Blazers outscored the Trojans 16-14 to take a 28-26 halftime lead.
Tandy led the Blazer attack with 13 at the break, followed by freshman DJ Quarles with 5.  Senior guard Chatman Ellis scored 7 for the Trojans, and sophomore forward Ayden Winn had 5.
Junior guard Drew McGowan got going with 8 points in the third quarter, helping the Blazers to a 19-11 advantage and a 47-37 lead.  The Blazers maintained their lead in the final frame, outscoring the Trojans 15-13 to win 62-50.
Tandy led all scorers with 22 for the Blazers, joined in double figures by McGowan with 12, and junior forward Ta'Quan Hollowell with 10.  Tandy also had 7 rebounds, Hollowell had 11, and McGowan collected 8.  Quarles finished with 7, senior forward Malik Lovan scored 6 to go with 6 rebounds, freshman guard KJ Crump had 4, and senior Kwun Dorsey had a point.
The Blazers begin postseason play on Tuesday when they square off with Hopkinsville in the 8th District tournament at Christian County.  UHA won both regular-season games with the Tigers, but Hopkinsville closed its regular season with wins over Owensboro and McCracken County, and appear to be peaking at the right time.