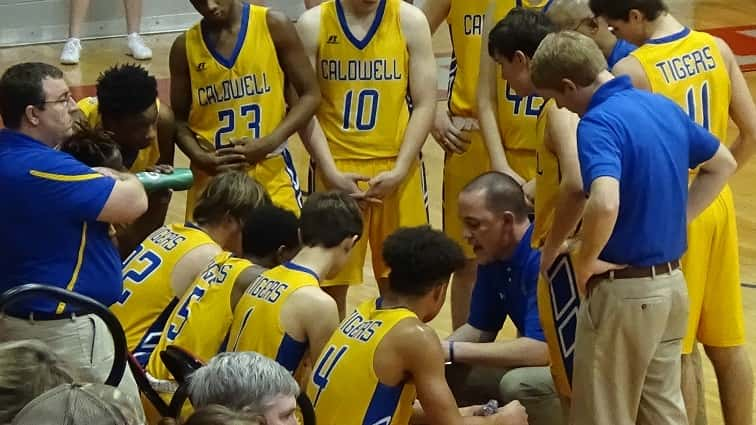 The Caldwell County boys' basketball team wrapped up its regular season slate with a 70-60 win over hosts Livingston County on Friday night.  The Tigers avenge a 70-55 loss to the Cardinals in the 2nd Region All A semifinals on January 20.  Caldwell head into postseason play on a run of five wins in six games, improving to 13-13 overall.  Livingston County has lost three of four to fall to 17-12.
Junior guard Derrin Boyd scored the first 4 points of the game to give Caldwell the lead, but a Cardinal three pointer gave them their first lead at 7-5 with 4:35 left in the opening quarter.  Livingston took a 4-point lead at 12-8, before the Tigers ran off the next 7, capped by two Boyd free throws, to take a 15-12 lead into the second quarter.  Boyd and junior forward Jameer Riley accounted for 14 of the 15 Caldwell points.
The teams traded the lead back and forth throughout the second quarter, with neither team leading by more than 3.  Turnovers plagued the Tigers, but with :50 left until the break the game was tied at 24.  Sophomore forward Cayden Fraliex nailed a three pointer, and Livingston missed a try at the buzzer to give Caldwell a 27-24 halftime lead.
Boyd's 14 led the Tigers, followed by Riley with 7 and Fraliex with 4.  For the Cardinals, senior guard Bailey Vaughn led the way with 6, and junior guard Cameron Head scored 5.
Caldwell opened the second half with a Fraliex three and a bucket by Riley for the biggest lead of the game at 31-24.  With 2:11 left in the third period, Riley scored on a layup off an assist from Boyd to stretch the lead to 8 at 40-32.  The Cardinals responded with 6 straight points to get within 2, before Caldwell junior guard John Davis was fouled on a three-point attempt. Davis hit two of three, and the teams traded baskets as the quarter ended for a 44-40 Tiger lead.  Boyd went scoreless in the third, but Davis and Riley picked up the slack with 5 and 7, respectively.
Boyd wasted little time getting getting started in the final frame, scoring the first 6 points to build the Tigers' first double-digit lead at 50-40.  Livingston cut it to 5, but Boyd went to work again, completing a three-point play and hitting two free throws.  With 3:49 to play, Caldwell went to the line and missed both attempts, but Fraliex pulled down the rebound and scored for a 58-47 score.  With their backs against the wall, the Cardinals rolled off 7 straight points to get back within 4.  However, Boyd was relentless, drawing two fouls and knocking down all four free throws to push the Tiger lead back out to 62-54.  Riley hit two free throws with just under a minute to play, but Livingston hit a three and called a timeout.  Caldwell finally sealed the game with :16 on the clock, as Davis scored on a layup off a pass from Boyd to lead 68-60.  Boyd closed out his 18-point fourth-quarter performance with a steal and layup, and the Tigers won 70-60.
Boyd's 32-point night led the Tigers, with Riley finishing with 17.  Fraliex scored 9, Branch had 7, and Davis added 5.  Head scored 13 for Livingston Central, followed by senior forward Cameron Dean and senior guard Dylan Sherer with 11 each.
Caldwell will be hosting the 7th District tournament next week, starting play on Tuesday against Hopkins County Central (15-12).  The teams split their regular season meetings, with both winning on the road.