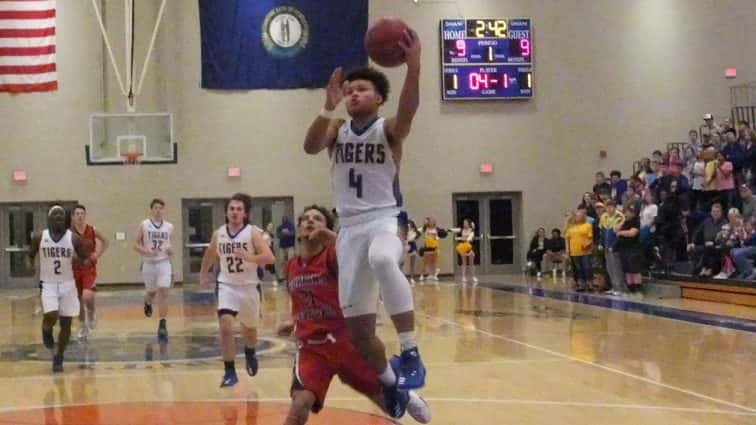 Just when they thought they had pulled off an incredible rally, the Caldwell County Tigers suffered a heart wrenching defeat Thursday night. The Tigers came from 16 points behind in the 4th quarter to take the lead, only to see Hopkins Central score the final six points of the game to pull out an 88-85 win in a 7th District semifinal.
The furious final three minutes fit the rest of the contest, which featured high energy, and up and down the court play. The opening quarter saw three ties and four lead changes, as the Storm took an 18-17 lead after the opening quarter.
Hopkins Central opened the 2nd quarter extending the lead to 23-17. But, back to back threes by John Davis and Tripp Branch quickly tied the game at 23. Hopkins Central pushed the lead back out to five late in the quarter at 38-33. However, another 3 from Branch and a basket from Derrin Boyd tied the game at 38-38 at the half.
Holding a 51-48 lead late in the 3rd quarter, the Storm made a move to take control of the game. Central finished the quarter on a 15-8 run to take their lead to double digits at 66-56 at the end of the third.
The Storm looked like they had things well in hand, after opening the final quarter on a 7-1 run to take their biggest lead of the night at 16 points. Then, the Tigers got hot and got hot fast. Baskets by Jameer Riley, Cayden Frailex, and a three by John Davis cut the lead to 73-64. Central fought back and inched the lead back out to 11 at 77-66.
Then the Tigers made their final big push. Two threes by Branch and another by Davis cut the lead to 77-75 with 3:32 left. A free throw by Branch, and then Boyd rebounded a free throw miss by Davis, made the shot and got the and one to put Caldwell County in front 79-77.
With time winding down on the clock, and Caldwell County up 85-82, the furious finish reached its peak. A Storm basket cut the lead to 85-84. A turnover by Caldwell County gave Central the ball back, and in the final seconds Sam Almon hit a deep three out of the left corner that put the Storm back in front at 87-85. Central would add one more free throw to seal the three point win.
Derrin Boyd led the way for Caldwell County with 25 points. Jameer Riley added 21, Tripp Branch 15, and John Davis had 14 for the Tigers. Tylan Mann was the leading scorer for Hopkins Central with 22 points.
Caldwell County ends the season at 14-14. While Central improves to 16-12, and will move on to Friday night's championship game against Madisonville.