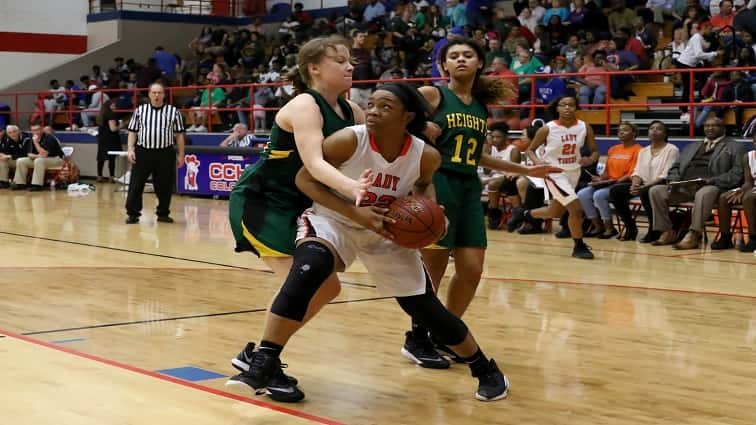 The Hopkinsville girls' basketball team eased past University Heights 68-28 in an 8th District semifinal on Tuesday night, setting up a third meeting with the Christian County Lady Colonels in the championship game on Thursday at Colonel Gym.  Hoptown has won four of five to improve to 19-9 overall, while the Lady Blazers end their season on an eight-game slide to finish 8-17.
The Lady Tigers used suffocating defensive pressure to jump out to a 13-3 lead, and went on to lead 19-4 after the opening quarter.  Hopkinsville continued to build the lead in the second quarter, pushing the margin to 34-8 with 4:29 left in the first half after a three pointer by junior guard Yogianah McKnight.  The Lady Blazers closed the half on a 14-7 run, fueled by 8 points from senior guard Anshanique Leavell, to cut the Lady Tigers' halftime lead to 41-22.
Senior point guard London Foster and junior forward Jayla Rose both scored 9 for the Lady Tigers, and McKnight added 7.  Leavell's 9 led the Lady Blazers, followed by sophomore guard Lily Hendricks with 7.
Hopkinsville outscored the Lady Blazers 20-3 in the third quarter, taking a 61-25 lead into the final frame.  With the running clock, the fourth quarter offered little scoring, and the Lady Tigers cruised to a 68-28 win.
Rose scored 21 for Hopkinsville to lead all scorers, joined in double figures by McKnight with 12, and sophomore guard Anna King with 11.  Foster finished with 9, Oldham and freshman forward Lakayla Samuel both scored 7, and 8th grade forward Donisha Flowers had a point.
Leavell was the only Lady Blazer in double figures with 10, followed by Hendricks with 8.  Junior forward Aisha Pantiere scored 6, junior guard Alex Juckett had 3, and sophomore center Mallory Rager had a point.
Hopkinsville will square off with Christian County on Thursday, looking for its third-straight 8th District championship.  However, the Lady Colonels won both regular-season meetings, by 13 in Colonel Gym and 15 at Hopkinsville.