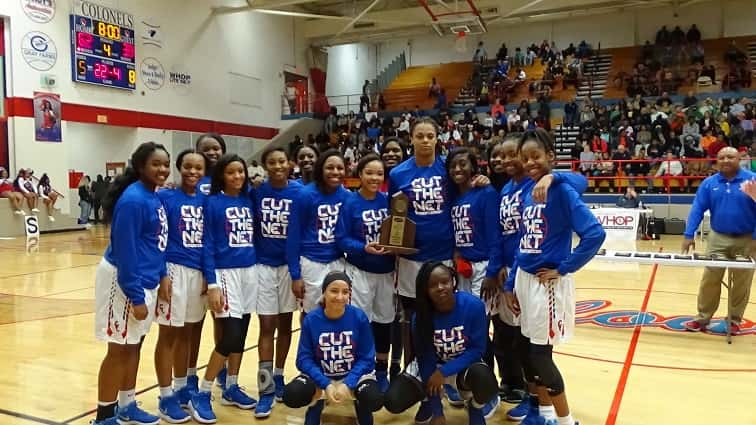 The Christian County girls' basketball team beat Hopkinsville 62-39 on Thursday night to win its first 8th District championship since the 2009/10 season.  The Lady Colonels third win over Hoptown this season takes them to 21-7 on the year, while the Lady Tigers slip to 19-10.  Hopkinsville had won the last two district championships, beating the Lady Colonels 53-41 in the title game last season.
Hopkinsville scored the first 3 points of the game, but the Lady Colonels responded with with a 12-0 run, powered by 4 points each from junior guard Kinara Phillips and freshman forward Trinity McGee.  Junior point guard Breon Oldham knocked down a three pointer with :50 left in the first quarter to cut the lead to 12-6, but a three-point play by junior guard Aaliyah Hampton gave the Lady Colonels a 15-6 lead going into the second frame.
Senior point guard London Foster hit her second three pointer of the quarter to pull the Lady Tigers to within 5 at 19-14 with 6:10 to go until halftime.  Oldham converted two free throws and junior forward Jayla Rose scored to once again trim the County lead to 5, but McGee scored followed by 4 points from senior center Trinitee Jackson to build Christian County's first double-digit lead at 32-21 with :55 left in the half.  The Lady Tigers hit 3 of 4 free throws in the last 30 seconds, and County missed a three at the buzzer, settling for a 32-24 lead at the break.
Jackson's 12 paced the Lady Colonels, followed by McGee with 10, and Hampton with 6.  For Hopkinsville, Foster led the way with 10, and Oldham scored 8.
Hampton and Foster traded three pointers, before Phillips scored to restore the Lady Colonels 10-point lead.  Two Hampton free throws and a bucket down low by Jackson off an assist from senior guard LaDeria Gold gave County a 46-31 lead with 3:08 left in the third quarter.  8th grade forward Donisha Flowers and Oldham both hit two free throws, but McGee hauled down a rebound and scored at the third-quarter buzzer for a 48-35 Lady Colonel lead.
Christian County began the final quarter with another big run, this time 14-2 to put the game away at 62-37 with 2:21 to play.  The Lady Colonels pulled their starters with just under two minutes to play, and Hopkinsville did the same soon after.  The Lady Tigers' Rose scored inside for only their 4th point of the quarter, and neither team scored again over the last minute and a half for the 62-39 final score.
Jackson led all scorers with 25 for the Lady Colonels, joined in double figures by Hampton and McGee with 14 each.  Phillips finished with 6, and Gold had 3.  Foster scored 15 for Hopkinsville, followed by Oldham with 14.  Rose, the Lady Tigers' leading scorer at 16.1 per game, struggled to get going against the Lady Colonels size inside and finished with 4.  Junior guard Yogianah McKnight scored 3, Flowers had a basket, and freshman forward Lakayla Samuel had a point.
Both teams advance to next week's 2nd Region tournament, with the draw taking place Saturday morning at Madisonville-North Hopkins.