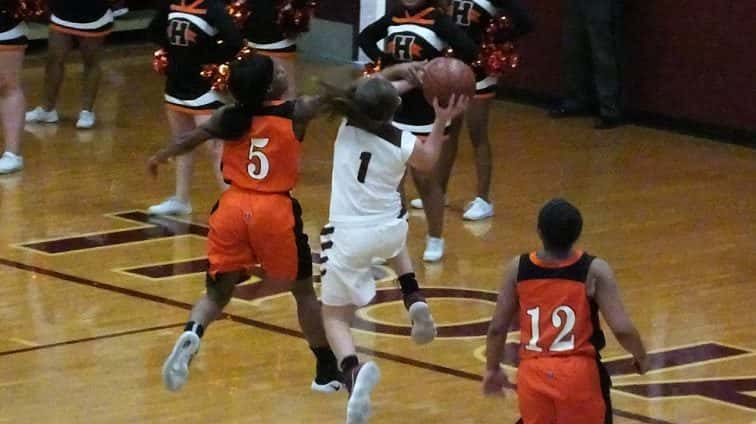 A slow start coming off the opening tip was too much to overcome for the Hopkinsville Lady Tigers Friday night in the first semifinal game of the Girls 2nd Region tournament. Webster County hit the Lady Tigers with an 11-0 run to open the game and then rolled to a 60-43 win on their home floor in Dixon. The Lady Trojans got off to the quick start despite three early turnovers in the contest.
The Lady Trojans used a balanced offensive attack and pressure defense to jump out to the eleven point lead. Hopkinsville finally scored on a basket by Lakayla Samuel with 3:15 to go in the quarter. Webster County then continued to extend their lead over the remainder of the quarter, leading 20-5 when the quarter came to an end. Freshman Sadie Wurth had seven points in the opening quarter.
The Lady Trojans clamped the defense down even tighter in the second quarter, holding Hopkinsville without a field goal until inside the final two minutes of the half. Meanwhile, the Webster County offense continued to be efficient, outscoring the Lady Tigers 19-9 in the quarter to extend the lead to 39-14 at the half.
Coming out of the locker room, Hopkinsville made a big push to get back into the game. The Lady Tigers, with increased defensive heat, opened the 3rd quarter on an 11-0 run to cut the lead to 39-25. However, the Lady Trojans came firing back with a 9-2 blitz of their own to push the lead back out to 21 and effectively finish off the game.
Hopkinsville continued to try and make another run with increased defensive pressure in the final quarter but could get no closer than 17 points down the stretch.
Yogi McKnight led the way for Hopkinsville with 15 points. Breon Oldham and Donisha Flowers had 8 points apiece.
For Webster County, Jessica Winders had 17 points, while Karlie Keeney chipped in with 13 points.
Webster County improves to 27-6 with the win and advances to Saturday's Girls 2nd Region championship game. It will be the 4th straight appearance in the final for the Lady Trojans. They have lost to Henderson County each of the last three years.
Hopkinsville ends their season at 20-11.