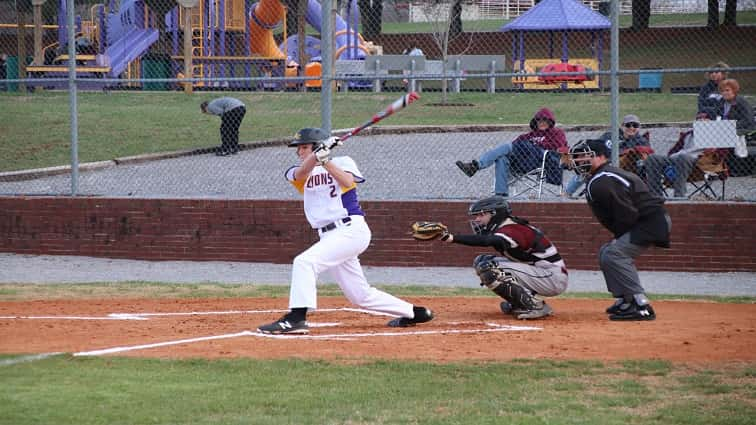 In the first game for both teams, Madisonville-North Hopkins beat Lyon County 9-4 in Eddyville on Thursday night.  Both teams had nine hits, but five Lyon County errors were the difference.
Freshman CF Travis Yancey put the Lyons in front in the bottom of the first, doubling to bring home junior SS Gabe Board.  The Maroons jumped back in front with 3 runs in the top of the second, but the Lyons cut the lead in half when 8th grade 2B Gunnar Bingham doubled and senior LF Taylor Carney came home on the throw.
Madisonville added 2 more in the top of the fourth, before the Lyons answered with a run in the bottom of the inning.  Board reached on an error, bringing in junior 3B Keaton Bridges.  The Maroons put the game away in the top of the fifth, scoring 3 to take an 8-3 lead.  They tacked on another in their half of the sixth, with the Lyons adding a run in the bottom of the seventh on a ground-out by junior Jake Kleuppel that scored freshman Clay Haines.
Junior 2B Ethan Browning went 2-5 and had 3 RBI for the Maroons, followed by freshman Parker Mathis at 2-4 with 3 RBI.  Junior pitcher Alex Gray went six innings for the win, allowing nine hits and 4 runs, and striking out eight.
For the Lyons, Board went 2-4 with a run scored, and Carney was 3-3.  Yancy, Bingham, Board, Carney, and senior C Brody Bridges all had doubles.  Senior pitcher Christian Whalen took the loss, going three innings and allowing 5 runs, 1 earned, on two hits.  Junior Dylan Capello worked four innings, allowing seven hits and 4 runs, and striking out three.
On Friday, the Lyons go on the road to face Ohio County, and the Maroons travel to Todd County Central.