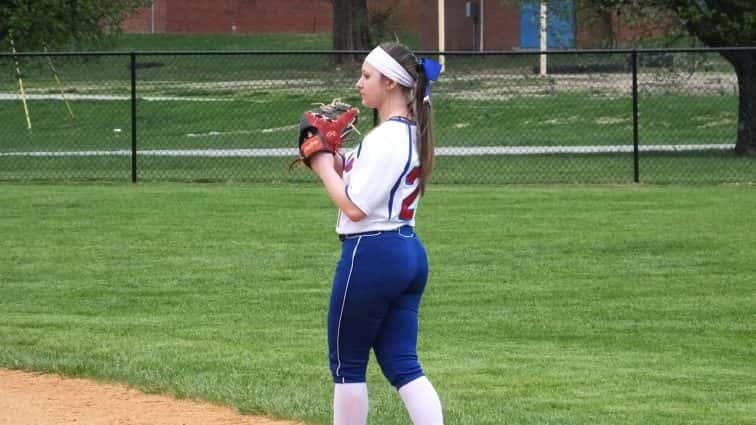 Hope Jones hit a single up the gap in the bottom of the 7th inning to lead the Christian County Lady Colonels to a hard fought 4-3 win over Marshall County. It was a game that saw Christian County take an early lead, and then have to rally to tie the game in the bottom of the sixth, before Jones' heroics in the bottom of the 7th. The tight contest comes after the Lady Colonels had won their first two games by a combined score of 45-0.
Christian County got on the board first in the bottom of the second inning. After back to back walks to Taylor Shemwell and Tyler Shemwell, Riley Hancock came up with an RBI single and Macy Lancaster drove in a run by grounding into a fielders choice to give Christian County an early 2-0 lead.
Meanwhile, in the circle, Lexie O'Daniel was mowing the Lady Marshalls down early, setting down 12 of the first 13 batters she faced, including six by strikeout. Marshall County finally scored in the top of the 5th inning, without the benefit of a hit. A hit batter, followed by a steal, and a Christian County throwing error put a Marshall County runner on 3rd base. The runner would then score on a passed ball to make the score 2-1.
The Lady Marshall would take the lead in the top of the 6th inning thanks to a single, an error, an intentional walk, a wild pitch, and then an RBI single by Seranna Tomassi to make the score 3-2 in favor of Marshall County.
Christian County did not take long to tie the game up. Lexi O'Daniel homered to left field to open the bottom of the 6th inning and tie the game at 3-3.
Marshall County got two walks in the top of the 7th inning but could not take advantage of the opportunity. In the bottom of the inning, Macy Lancaster led off with a walk. She was sacrificed down to 2nd base. Hope Jones then hit the second pitch she saw to the left field gap to end the game.
Jones was 1-4 in the game with the game winning RBI. O'Daniel was 2-3 with a home run. Regan Hancock was 1-3 with an RBI, while Macy Lancaster was 1-2 with an RBI.
In the circle for the Lady Colonels, Lexi O'Daniel went the distance, giving up 3 runs on 3 hits, striking out 11, and walking three.