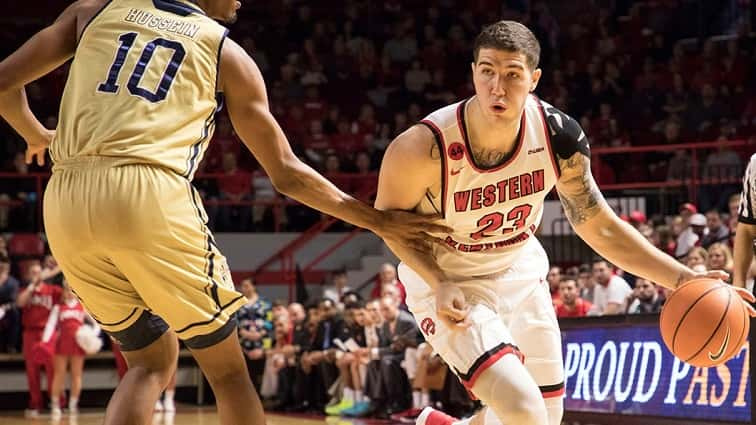 Four-year Western Kentucky Hilltopper Justin Johnson put on a strong showing in recent days at the 2018 Portsmouth Invitational Tournament, a showcase for the nation's top college seniors. Johnson averaged 13.7 points, seven rebounds and 27 minutes across the three games. In the final stats for the tournament, he tied for 19th in scoring, 12th in rebounding and second in blocks out of 64 players.
The Hazard, Kentucky, native was named to the PIT All-Tournament Team. This was Johnson's third accolade of the kind this year after earning C-USA and NIT all-tourney teams honors. Johnson played in front of representatives from all 30 NBA teams and was able to take several meetings with members of NBA front offices between the Portsmouth games.
In the opening round of the PIT, Johnson scored 10 points and pulled down six boards in 21 minutes. He also notched two assists, two blocks and a steal contributing to the team's 103-93 win.
On Friday evening, Johnson led the Sales Systems, LTD squad, falling just shy of a double-double with 17 points and nine rebounds. Johnson played a team-high 29 minutes and added three assists and a block. He shot 6 of 14 from the field and 5 of 7 from the charity stripe. Johnson's team squeezed out an 85-83 win and advanced to the PIT Championship game.
The senior forward finished the championship game with 14 points, six rebounds, two assists and three blocks. Johnson dished out the game-winning assist in the final seconds to teammate Tyler Nelson for a layup to win the PIT Championship. After his team fell behind with two seconds to play, Johnson hit Nelson in stride with a full-court inbounds pass for the winning basket.
Johnson was the first Hilltopper to receive an invitation to Portsmouth since guard T.J. Price in 2015. Other recent Hilltoppers to compete include A.J. Slaughter and Anthony Winchester.
(Courtesy WKU Athletics)