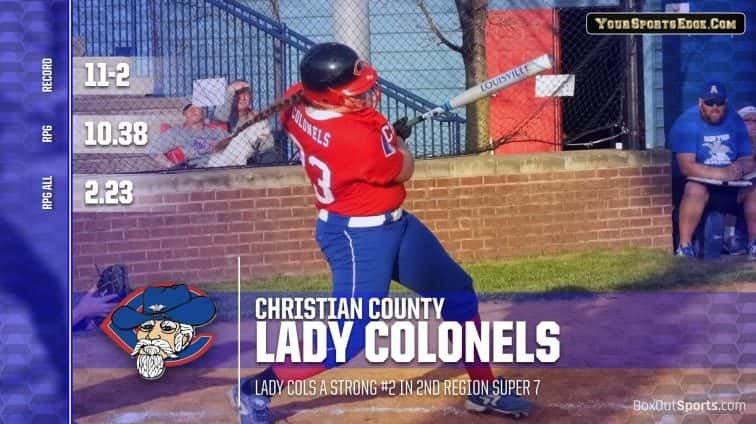 The weather finally gave teams a chance to get on the field and play games over the past week, and enabled us to get a look at who just may contend for the 2nd Region softball championship. There were some changes in the Super 7 this week, just not at the top, where Madisonville and Christian County continue to hold their positions as the cream of the crop, at least for now.
1 – Madisonville (4-0) – The defending state champs only played twice, but thumped Union County and got a road win at Muhlenberg County. So far this season, they have outscored opponents 42-2.
2 – Christian County (11-2) – What was supposed to be a test of a week for the Lady Colonels, turned out to be anything but. They beat Apollo, South Warren, and McCracken County, all ranked teams, by a combined score of 33-4.
3 – Webster County (5-4) – The Lady Trojans have played tough schedule, which figures to benefit them down the stretch. Losses to ranked teams, Marshall County and McCracken County, are nothing to be ashamed of. They did have to battle to take down Henderson County.
4 – Caldwell County (5-1) – Since the 1st inning of their season opening loss, the Lady Tigers have given up only 2 runs. We will find out a good bit more about this team this week, as they play Madisonville on Tuesday, and again on Thursday.
5 – Henderson County (4-3) – The Lady Colonels jump into the Super 7 this week, after wins over Union County and Hancock County. They also took Webster County into extra innings before dropping a one-run heartbreaker.
6 – Trigg County (6-6) – An up and down effort for the Lady Wildcats at the Slugfest. Looked good in wins over Murray and Union County, but got thumped a bit in losses to Goreville and Daviess County.
7 – Crittenden County (7-3) – Lyon County almost held on in the #7 slot this week, but hard to get past the 11-1 Crittenden County win in the All A Classic at this point. Those two teams are set to rematch this Thursday.