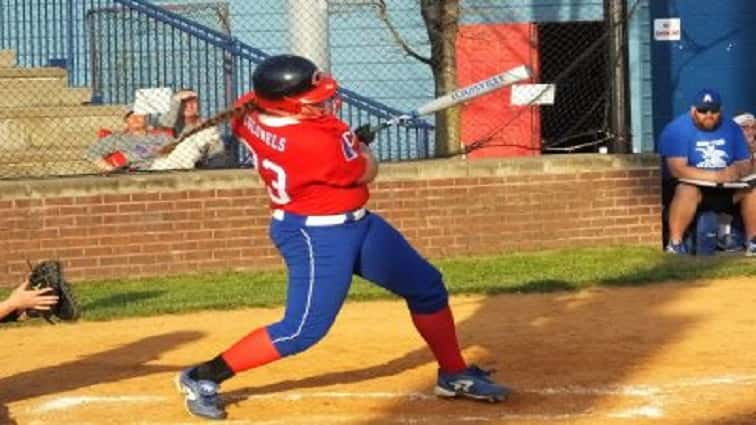 The Christian County softball team went 1-1-1 on Saturday to close out its weekend at the Big M Chevy Classic at Elizabethtown, tying Male 3-3, beating Lafayette 6-1, and falling to Sparkman (Harvest), AL 6-0.  The Lady Colonels finish the tournament with two wins, a draw, and a loss, running their record to 15-3-1 on the year.
Both teams got on the board in the third inning in the first game, with the Lady Colonels answering the Lady Bulldogs' 3 runs with 2 of their own off a Male error in the bottom of the inning.  Christian County took advantage of another error in the fourth to tie the game at 3-3.  From there, Lady Colonels senior Lexie O'Daniel and Lady Bulldogs' sophomore Jaelyn Sanders shut down the opposing offenses, ending the game in a tie.
O'Daniel went 7.0 innings, allowing 3 runs, 1 earned, on six hits with eight strikeouts and four walks.  Sophomore Hope Jones, junior Emmy Blane, freshman Reni Shemwell, and junior Taylor Shemwell each had a hit for the Lady Colonels.
Sophomore Jaelyn Sanders worked 6.2 innings for the Lady Bulldogs, allowing 3 runs on four hits with six strikeouts and two walks.  Senior Jenna Howell had a hit and 2 RBI, and sophomore Morgan Zuege collected two hits and knocked-in a run.
The Lady Colonels scored a run in each of the first three innings of the second game against Lafayette, taking a 3-1 lead into the fourth.  Jones and senior Regan Hancock each singled to drive-in a run.  Taylor Shemwell scored Blane with a sacrifice fly, followed by an RBI single by Reni Shemwell to take a 5-1 lead after four frames.  Jones picked-up a second RBI in the top of the fifth, wrapping up the scoring for a 6-1 win.
Jones was 2-4 with 2 RBI, Hancock had three hits and drove-in 1, Reni Shemwell collected two hits and an RBI, Tyler Shemwell knocked-in a run, and Blane, O'Daniel, and Taylor each had a hit.
Hancock earned the win, pitching 4.0 innings while allowing 1 run on six hits with a strikeout.  Sophomore Carlee Jeter took the loss for the Generals, going the distance and allowing 6 runs, 5 earned, on ten hits with five strikeouts and four walks.
In their final game of the day the Lady Colonels' offense stalled, leading to a 6-0 setback against Sparkman (Harvest), AL.  O'Daniel held the Sparkman offense to 2 runs over the first four innings, but 2 runs in both the fifth and sixth innings put the game out of reach.
O'Daniel took the loss, working 6.0 inning and yielding 6 runs, 2 earned, on nine hits with seven strikeouts and a walk.  She and 8th grader Pickle Winkler each had two hits, with Tyler Shemwell, Reni Shemwell, and junior Macy Lancaster each getting a hit.
Cassidy Duskin was the winner for Sparkman, going the distance while scattering seven hits and striking-out seven.  Taylor Davis and TJ Webster both had three hits, and Lilly Calvery knocked-in 2.
The Lady Colonels go on the road on Tuesday, facing the 13-5 Marshall County Lady Marshalls.