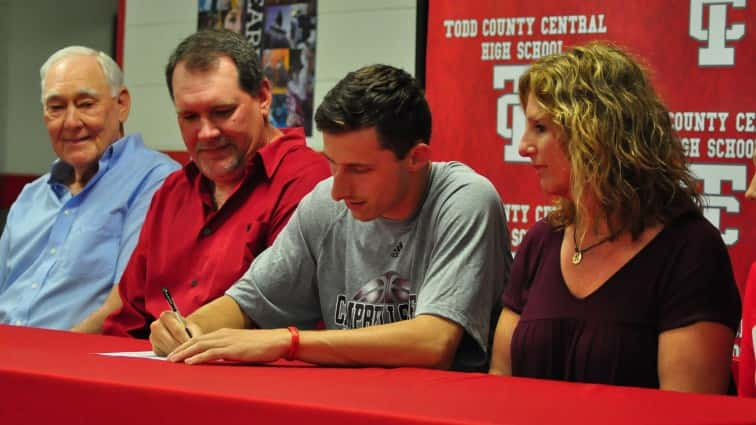 Campbellsville assistant coach Darius Clement watched Nolan Barrow play at a recruiting event over the summer and came away impressed with how he handled himself on the court and controlled the game while balancing getting others involved with his own scoring.
On Tuesday, Clement watched Barrow sign his letter to play basketball for Campbellsville
Barrow was named All-Fourth Region Third Team and was named to the Fourth Region All-Tournament Team after averaging 17.4 points and four rebounds a game for the Rebels. He shot 47-percent from the field and led the Rebels in 3-point shooting with 65 made at a 45-percent clip. He was also among the region leaders in free throw percentage at 81-percent.
Barrow, who passed the 1,000-point mark in his career this season, helped the Rebels win the 13th District title and advance to the Fourth Region semifinals.
Barrow has a weighted 3.77 GPA while being involved in FFA, Champions Against Drugs, National Honor Society, Spanish Club, and was elected Todd County Homecoming King.
Clement is the head coach of Campbellsville's junior varsity team and is no stranger to the Fourth Region. He played his high school basketball at Bowling Green High School.