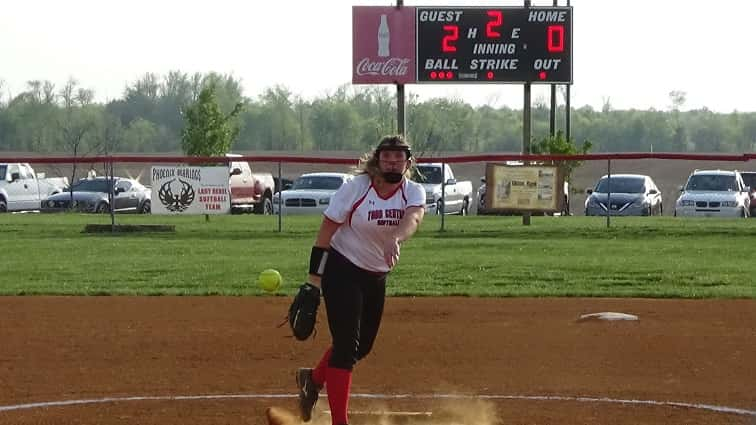 The Todd County Central softball team generated little offense through six innings against visiting Russellville on Wednesday night, but a seventh-inning, 4-run rally fell just short in a controversial 6-5 loss.  The Lady Rebels have dropped four of their last five to slip to 6-8, 1-5 in the 13th District.  The Lady Panthers push above .500 at 12-11, evening their district mark at 3-3.
Russellville appeared to be cruising toward its third win of the season over Todd County, taking a 5-0 lead after three innings.  The Lady Rebels got on the board in the bottom of the fourth with an RBI single by 8th grader Sam Case, cutting the lead to 5-1.
Todd County freshman starter Maddie Williams pitched 6.0 innings before injury forced her to give-way to freshman Haylee Vass.  Vass allowed a couple of hits in the top of the seventh, but got out of trouble to set-up the Lady Rebels' dramatic comeback.
Sophomore Emma Harris grounded-out to bring home senior Addye Sawyers, trimming the lead to 3 at 5-2.  Sophomore Whitney Higgins followed with a 2-run double, bringing Case to bat as the tying run.  Case delivered an RBI single to score Higgins, getting the Lady Rebels to within 1 at 6-5.  Junior Paige Rager doubled, moving Case to third and putting the tying and winning runs in scoring position.  Vass came to bat with an opportunity to win the game, but she only saw one pitch as Rager was called out at second for leaving the base early, ending the game.
Williams took the loss for Todd County, working 6.0 innings and allowing 6 runs, 2 earned, on seven hits with three strikeouts and four walks.  Case was 2-4 with a couple of RBI, joined by Higgins with a hit and 2 knocked-in.  Sophomore Jordon Weathers had three hits and sophomore Emma Harris had a hit and an RBI, with Sawyers, Williams, junior Rachael Bilyeu, and junior Paige Rager each hitting safely once.  Senior 1B Michaela Robertson had a frustrating night at the plate, seeing no pitches after being waved to first four times.
Gray went the distance for the Lady Panthers for the win, yielding 5 runs on eleven hits while striking-out two and issuing four walks.  Senior Susanna Higgins knocked-in 4, with junior Brooklyn Ray getting the Robertson treatment, drawing four automatic walks.
The Lady Rebels will be heading to Cumberland County on Friday and Saturday to take part in the R. Fred Capps Memorial Tournament.