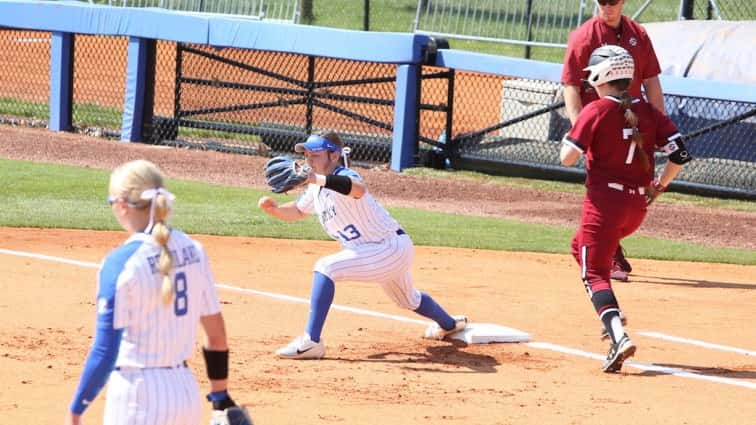 Freshman Mallory Peyton capped off an 8-RBI weekend, the most of her career, by far. After a grand slam on Friday, the former Madisonville Lady Maroon hit a critical three-run home run in game two and then had an RBI SAC fly in game three.
Rethlake went the distance on 137 pitches in her final regular season affair at John Cropp Stadium, allowing three earned runs on nine hits, three walks and striking out five to improve her record to 9-4 this season.
The win for Kentucky not only wrapped up a spot in the 2018 SEC Tournament, but also put a bow on the Wildcats second SEC series win of the season (No. 8 LSU).
After taking two of three from No. 12 South Carolina, the Kentucky softball team has earned the No. 10 seed in the 2018 SEC Tournament, and will face the No. 7 seeded Arkansas Razorbacks in the opening round on Wednesday at 2:30 p.m. ET.
The game will be shown live on the SEC Network, ESPN3 and the ESPN app with Women's College World Series announcers Adam Amin and Amanda Scarbrough on the call. Laura Rutledge will be working the sidelines.
Kentucky and Arkansas did not meet in 2018 during the regular season. The last time UK faced Arkansas, the Wildcats swept the Razorbacks in Lexington a season ago in a three-game series.
The SEC Tournament will be hosted by Missouri at the Missouri Softball Stadium in Columbia.
Peyton talked about her eight-RBI weekend and the SEC Tournament Field with Larry Vaught.