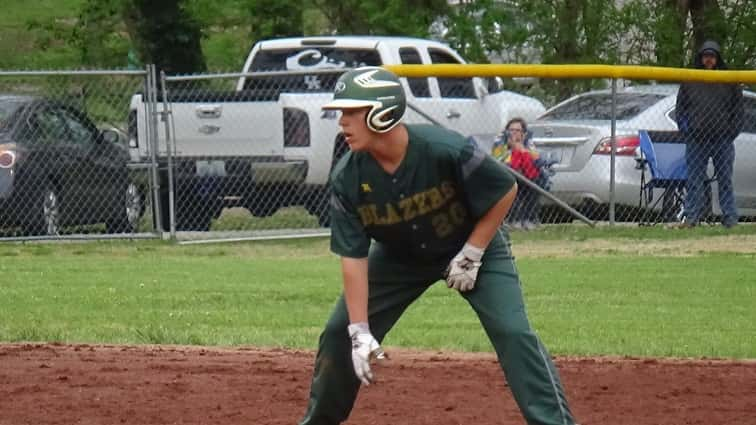 The University Heights Academy baseball team used a 7-run fifth inning to tie the game Tuesday at Hopkins County Central, but after taking the lead in the sixth the Blazers surrendered a 2-run single in the bottom of the seventh to lose 10-9.
With the Blazers trailing 8-1 in the top of the fifth, two walks to start the inning sparked a 7-run rally to tie the game.  Scribby Goode and Dustin Moon had RBI singles, Dan Johnson doubled-in 2, and Drew McGowan grounded-out to bring home Malik Lovan for the 8th Blazer run.
Zach Naylor reached on a Storm error in the top of the sixth, bringing home Johnson for the Blazers' first lead since the middle of the first.  Johnson pitched into the seventh, but led off the frame by hitting the first two batters.  Tanner Thomas came on in relief, but an RBI single from the first Storm batter he faced ended the game.
Johnson took the loss, working 6.0 innings while allowing 10 runs, 7 earned, on eight hits with six strikeouts and a walk.  He also led the Blazers at the plate, collecting two hits and driving-in 2.  Eston Glover and Lovan each had two hits, with Goode going 2-4 with an RBI.  McGowan and Dustin Moon both hit safely once and knocked-in a run.
Colin Garrett earned the win for the Storm, pitching 3.0 innings while allowing 4 runs, 3 earned, on six hits with three strikeouts and a walk.  Garrett and Logan Scarbrough both drove-in 3 runs.
The Blazers are scheduled to go on the road on Thursday to face the 7-15 Murray High Tigers.