PHOTO GALLERY: Christian County Blasts Crittenden County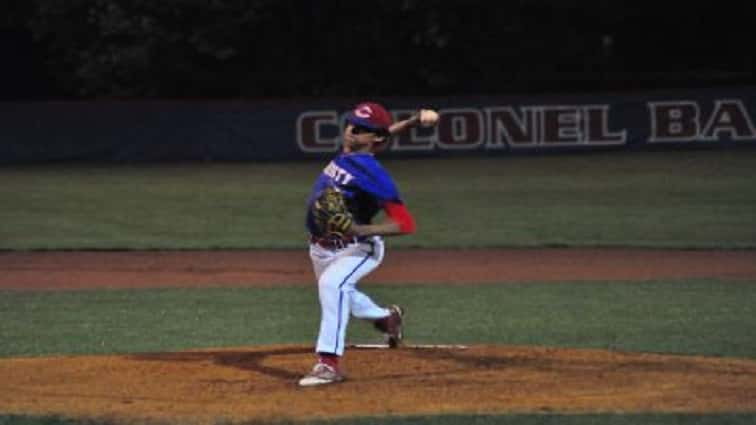 The Christian County Colonels used an 11-run second inning to cruise past the Crittenden County Rockets on Monday night, advancing to face Henderson County in Tuesday's semifinal.  The Rockets drop four of their last five to close the season at 10-20, with the lone win in that stretch a 5th-District upset of top-seeded Livingston Central.  The Colonels have won five of six to improve to 18-12 overall.
Crittenden County singled in three of their first four at-bats, but those would be the last hits the Colonel pitchers would surrender.  Starter Austin Fields worked out of a bases-loaded jam in each of the first two innings, and the Colonel bats erupted for 11 runs in the bottom of the second.  It began with both Lane Diuguid and Cameron Crider being hit by pitches, the first of three times Crider was hit.
Up 4-0 with the bases loaded, Wyatt Stevenson cleared them with a blast over the right-field fence.  Patrick Croney doubled-in Elijah Owens for an 11-0 lead, with the final run coming home in the bottom of the third on a ground-out by Jase Polley.  Polley pitched the fourth and fifth, yielding no hits while striking-out four.
Fields worked 3.0 innings for the win, allowing only three hits and a walk while striking-out seven.  Croney was the only Colonel with multiple hits, going 2-2 with an RBI.  Stevenson knocked-in 4, with Polley and Eric Silvy each driving-in a run.  Diuguid and Owens each had a hit.
Tyler Boone took the loss for the Rockets, lasting 1.0 and allowing 7 runs, 5 earned, despite not giving up a hit.  Payton Riley pitched two frames, allowing 3 runs, 2 earned, on three hits.