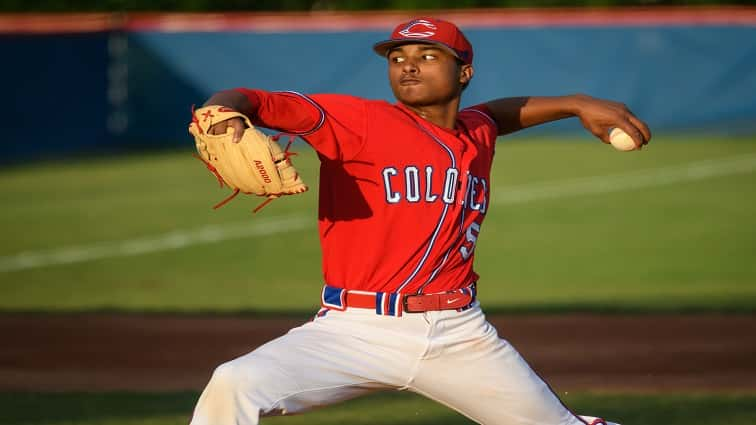 Christian County junior Lane Diuguid excelled on the big stage Friday night, throwing a no-hitter to lead the Colonels to a 6-1 win over Union County in the 2nd Region title game.  The Colonels head to the state tournament for the first time since 2008 and get revenge against the Braves after falling to them to end their season the last two years.  Christian County now stands at 20-12 overall, while the Braves see their campaign end at 19-21.
Union County scored on a wild pitch in the bottom of the third to take a 1-0 lead.  Back to back errors, two of the Braves' seven in the game, allowed the Colonels to tie it in the top of the fourth.  Layton Stallons ripped a single to score Diuguid and Jase Polley, giving the Colonels a 3-1 lead that would prove to be more than enough for Diuguid.
Wyatt Stevenson scored on a sacrifice fly by Polley to stretch the lead to 3 at 4-1, before lightning caused a delay with the Braves at bat in the bottom of the sixth.  After 30 minutes, the teams returned to the field and Diuguid got a strikeout and a fly out to end the inning and strand the Braves' Cade Duncan at third.
After Coy Burns relieved Duncan for the Braves in the top of the seventh, Christian County tacked on 2 more runs on a ground out by Stevenson and an RBI double by Polley.  Diuguid continued his dominance, striking out the final three Union batters to complete the no-hitter.
Diuguid struck-out eleven and issued five walks, while also collecting a couple of hits.  Polley and Stallons each had a hit and 2 RBI and Stevenson had a hit and knocked-in a run.
Duncan took the loss, working 6.0 innings while yielding 4 runs, 1 earned, on four hits with four strikeouts and a walk.  Burns allowed 2 runs, 1 earned, on a hit with a strikeout and a walk.