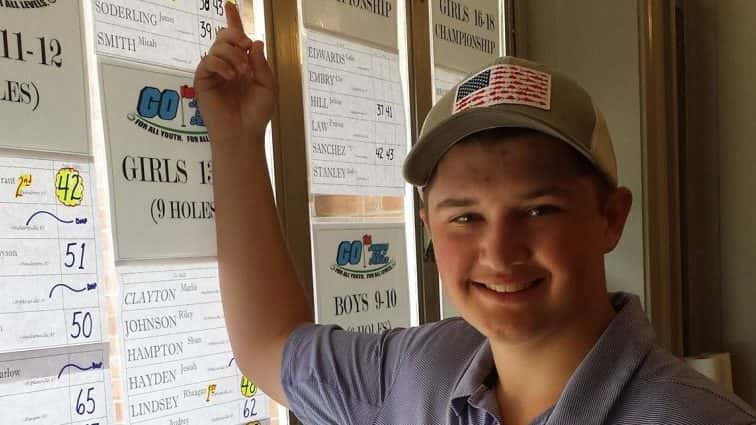 Golfers braved rainy weather to compete Friday at the GO Junior Golf Series stop at the Madisonville Country Club.
Russellville's Elijah Forbes won the Boys 13-15 Division in a playoff against Hunter Reynolds of Cadiz. Both shot an 81. Hopkinsville's Micah Smith finished fifth after shooting a 101.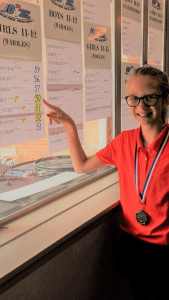 Hopkinsville's Anna Fort won the Girls 11-12 Division with a score of 50. Conlee Lindsey shot a 52 to finish third, while Ava Colburn of Hopkinsville was fifth (56), and Abby-Grace Forbes was sixth with a 57.
Hopkinsville's Rheagan Lindsey shot a 48 to win the Girls 13-15 Division. Audrey Rains (62) was third, and Sloan Hampton (66) was fifth.
Evan Pyle of Hopkinsville win the Boys 13-15 Division with a 44. Calvin Demps was third with a 56.
Haydon Reynolds of Cadiz finished third in the Boys 11-12 Division with a score of 45 over nine holes.
In the Girls 16-18 Division, Bridget Owens of Crofton shot a 94 to finish in second place.
Allie Sandifer won the Girls 8 Under Division by seven shots, shooting 13 over three holes. Campbell Lindsey finished third, and Anne Hampton was fourth.
Palin Hampton finished second in the Girls 9-10 Division with a score of 34 over six holes.
Wednesday at the Henderson Country Club, sisters Campbell and Conlee Lindsey each won their age division
Conlee shot a 46 to win the 11-12 Division by nine shots. Campbell shot 15 over three holes to win the 8 Under Division by five shots. Anne Hampton was third, six shots back.
Max Falco shot a 19 to finish third in the 8 Under Division in the three-hole format.
Rheagan Lindsey finished third in the Girls 13-15 Division, while Riley Johnson was fourth, Ainslee Cruce fifth, and Jessah Hayden sixth.
In the Boys 11-12 Division, Joey Falco shot a 52 to finish fifth, while Harlow Hampton finished ninth.
The GO Series will make a pair of stops in southern Indiana this week – Monday at Buffalo Trace Golf Course in Jasper and Tuesday at Christmas Lake Golf Course in Santa Claus.