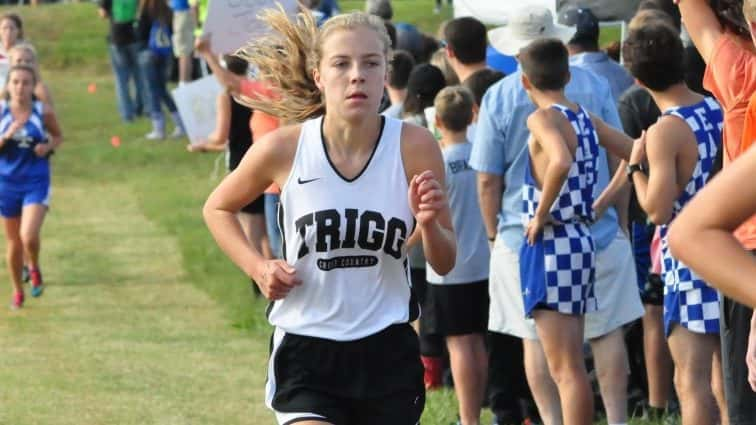 Trigg County opened up their 2018 cross country season Saturday at the Madisonville-North Cross Country Maroon Classic.
Trigg County's girls finished fourth as a team with 98 points. Madisonville (47) edged Marshall County (48) for the team title.
Lexi Ricks was the top finisher Saturday in 21st place in a time of 24:57 over the 3.1-mile course. Grace Hill was 22nd (24:58), followed by DeDe Barbee (27th, 25:40), Livi Ricks (31st, 25:53), Phelan Dossett (44th, 28:23), and Breeanna Barnes (52nd, 29:50).
Madisonville eighth grader Joy Alexander won the girls' varsity race in a time of 20:21.
Freshman Marshall Jenkins led the guys across the finish line in 29th place in a time of 20:00 over the 3.1-mile course. Apolo Francis finished 40th in 20:29, followed by Tyler Freeman in 72nd place in 22:28.
Madisonville's Christian Parker won the race in a time of 16:00.
In the middle school race, Riley Thompson finished in ninth place with a time of 9:17 over the 2.5 K course. Austin Cavanaugh was 14th in 9:23.
In the middle school girls' race, Trinity Cavanaugh (11:16) was 11th, and Reese Bush was 15th (11:22). Kylie Alford was 31st (12:07) followed by Mari Kate Ricks (34th, 12:17), Rose Owen (42nd, 12:32), Riley Brame (51st, 12:49), Zoe Miller (72nd, 13:59), and Libby Alexander (95th, 15:58).
Trigg County finished third as a team with 104 points. Graves County won the team title with 53 points.
Kiley Slone was the top Trigg finisher in the elementary school race with a ninth place finish.