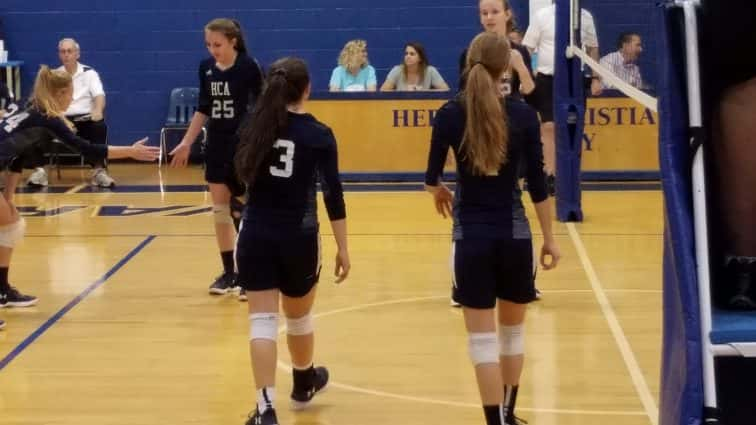 A long road trip, but a very good weekend for the Heritage Christian volleyball team. The Lady Warriors traveled to Louisville and Frankfort and came home with four KCAA conference victories. In doing so, the Lady Warriors surpassed twenty wins for the season.
Heritage Christian defeated AIE twice, the first time 2-0, winning the sets 25-7 and 25-11. The second match against AIE was also a 2-0 sweep, with HCA winning 25-10 and 25-8.
The Lady Warriors defeated Frankfort Christian 2-0, with set scores of 25-10 and 25-4. And HCA defeated Holy Angels 2-1, losing the first set 16-25, before coming back to win the last two sets 25-18 and 15-12.
Stats for the weekend
KILLS–45—Skyler Crisp-14, Cami Nelson-13, Allie Schluckebier-10, Meredith Crunk-9
SERVICE ACES—55— Emma Kirkman-20, Skyler Crisp-10,
ASSISTS—-Emma Kirkman—30
HCA now stands at 21-10 on the season, and will return to action Monday at home against Rossview.