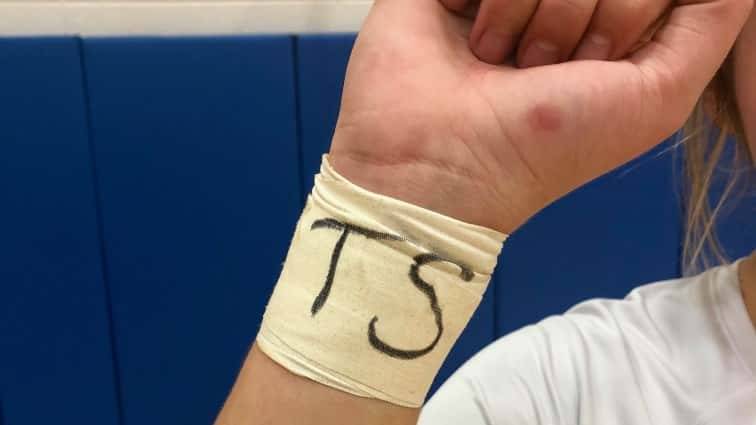 Athletes play sports for different reasons, but every athlete plays sports for someone. It may be for a parent or grandparent, a brother or sister, a coach, or even themselves. Sometimes, an opposing player provides the motivation. And sometimes, it's someone who's no longer with us.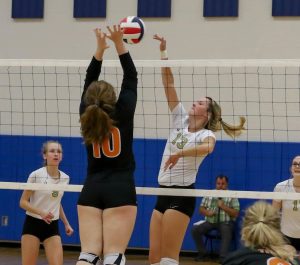 October 10 is an emotional day for University Height Academy junior Katie Beth Stevens. Twelve years ago, she lost her father to a heart attack. Tim Stevens was just 43 years old. He had played football at Trigg County High School and later at Murray State University until injuries took their toll. So, it was no surprise that Tim's children were also athletes. Katie Beth's older brother Jacob was an all-district pitcher for University Heights who went on to play in college.
So, when Wednesday, October 10 rolled around this year, Katie Beth decided to honor her father in the Eighth District volleyball championship against crosstown rival Hopkinsville. She got her wrists taped per usual, but took the time to write Tim's initials 'TS' on her right wrist.
Every time Katie Beth wound up and drilled one of her nine kills in the match or contributed one of her five blocks, her dad was with her on that right arm. Wednesday was one of Katie Beth's best performances of the season and it came in one of UHA's biggest games as they claimed their third district title in five years. And it earned a hug from her mom Bridget afterward.
October 10 will always be a day when Katie Beth Stevens remembers her father. After Wednesday, she can add a new story to that legacy — the night he was there when she showed out in the district championship match.