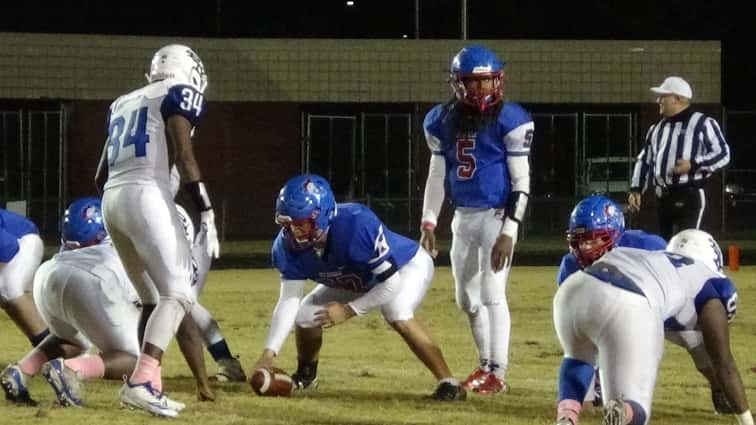 In a familiar theme, the Chistian County defense turned in a strong performance, but difficulty putting points on the board doomed the Colonels to a 12-8 loss to visiting Paducah Tilghman on Friday night at the Stadium of Champions.  The Colonels close the regular season at 4-6 and have injury concerns heading into the postseason after quarterback J'Lin Powell and running back JaDonavin McNeal both went down and didn't return.  The Blue Tornado closes the regular season on a 4-game win streak to finish 8-2 overall.
Anthony Hunt took the opening kickoff back to get the Blue Tornado off to an early 6-0 lead.  On their first possession, the Colonels lost Powell to an apparent foot injury, with Donte Abren taking over under center.
The Colonels forced a Blue Tornado fumble, with Niko Bussell recovering on the Tilghman 25-yard line.  However, the Colonels couldn't take advantage and turned the ball over on downs.  Jayden Freeman scored on a 1-yard plunge to double the Blue Tornado lead, and they led 12-0 at the half.
McNeal went down and wouldn't return with 5:00 to play in the third quarter, further hindering the Colonel attack.  Early in the final quarter, Jase Polley boomed a punt and the Colonels downed it on the Tilghman 1-yard line.  After a 3-and-out, the Blue Tornado could only manage a 7-yard punt, giving the Colonels the ball at the 8-yard line.  On 4th and goal with 7:47 to play, Abren hit L'Ray Coleman in the corner of the end zone for the Colonels' first points of the night.  On the extra point attempt, holder Dorian Lones picked up a bad snap and found a way to the end zone for a 2-point conversion.
Trailing 12-8, the Colonels kicked off looking for a defensive stand to get the ball back quickly.  However, the Blue Tornado put together a 16-play drive, converting on two 3rd downs and a 4th down to see out the victory.
Paducah Tilghman ran 51 plays for 176 total yards.  Tyus White completed 1 pass on 7 attempts for 13 yards.  Makel Askew rushed 11 times for 62 yards, followed by Tay Shawn Carruthers with 39 yards on 9 tries.
For the Colonels, Abren finished 6-14 for 47 yards with an 8-yard TD pass to Coleman.  Nate McGregor had a catch for 20 yards, Tyler West caught 1 pass for 11 yards, and Polley also collected 1 reception for 10 yards.  McNeal rushed 10 times for 50 yards.  The Colonels ran 35 plays for 100 total yards.
Christian County will begin the playoffs on the road next Friday, travelling to face the 8-2 Bowling Green Purples.  Tilghman will be at home in the first round, with 7-3 Hart County making the trip to Paducah.