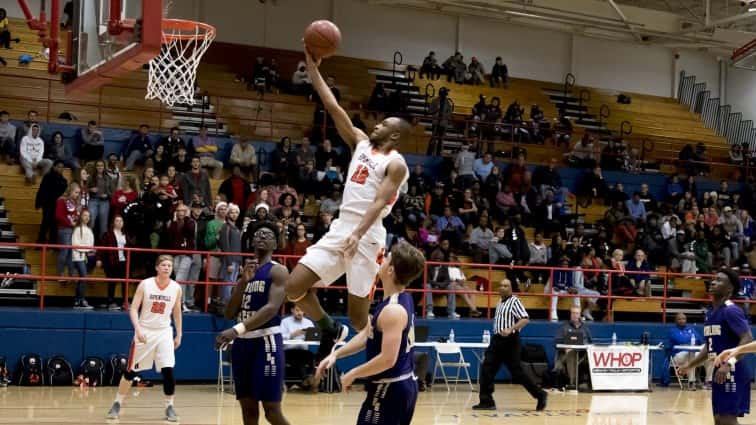 After a roller coaster 2017-18 season, the Hopkinsville Tigers return with a strong core group and a new coach for the upcoming season.  The Tigers finished the year at 13-14, while bowing out in the opening round of the 8th District tournament and failing to make the 2nd Region tournament for the first time since the 2010-11 campaign, former coach Tim Haworth's first season in charge.
The Tigers graduated five seniors, including their top two scorers in Stephen Cager and Jalen Johnson.  Cager averaged 22.4 points a game and has since moved on to play at Southeastern Community College in Iowa, while Johnson posted 17.5 points per game before making his way to Murray State University to continue his career.  Also moving to the college ranks was shooting guard Bryce Smith, the Tigers' leading 3-point shooter from a year ago.  Smith averaged just short of 8 points an outing while knocking down a team-leading 48 3-pointers at a 37.8% clip.  Smith signed to play ball at the NCAA D3 level with Spaulding University.
Leading the Tiger returnees is senior guard James Nicholas.  Nicholas suffered a knee injury just before postseason play began last year and missed the district tournament, but returns healthy and poised for a breakout season.  He was third on the team in scoring at 12.5 a game, while pulling down a team-leading 5.5 rebounds per contest and has begun to attract interest from several colleges.  Joining Nicholas are a number of players who were in and out of the starting lineup last season, including fourth-leading scorer and third-leading rebounder Jacarius Burks.  Burks averaged 11.2 and 4.5 as a junior and boasts an excellent all-around game as a offensive rebounder, finisher and defender.  Also competing for a starting spot are sophomore Alijah Watts (7.2 ppg), junior Don Victor, who has moved to the point guard spot after scoring 6.1 ppg last year, and Tefrell Toliver, a powerful and bouncy senior that can play in the post or on the perimeter.
First-year coach Larry Miller, who takes the reins with 16 years at Louisville Moore and 4 years at Louisville Male under his belt, will also be looking for contributions from a number of players who saw limited minutes last season.  The Tigers will count on 7'2″ senior center Jamarion Sharp to be a shot-blocking force down low, with fellow senior DeEvan Williams showing the potential to be a defensive stopper.  Sophomores Arthur McKnight and Kerry Waddell will provide depth, along with senior Montrelle Coates and junior Xavier Bussell.
The Tigers open the regular season on November 27 when they go on the road to face the Paducah Tilghman Blue Tornado.