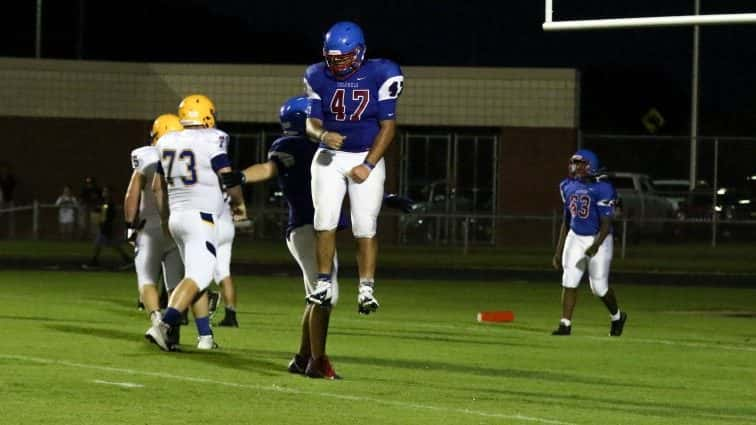 The All-Western Kentucky Conference Football First Team was announced Saturday, with 24 players from 10 different schools named to the squad by the coaches.
Mayfield had the most players named with six, followed by Madisonville, Caldwell County, and Paducah Tilghman with three each.
The All-WKC First Team as well as the WKC players from each school will be recognized at the WKC Banquet later this month.
OFFENSE
QB – Jayden Stinson (Jr.) – Mayfield
RB – Jeriah Hightower (Jr.) – Madisonville
WR – Oliver Parker (Sr.) – Caldwell County
WR – Ethan Dossett (Sr.) – Crittenden County
WR – Kade Neely (Jr.) – Mayfield
OL – Roberto Cruz (Sr.) – Madisonville
OL – Blake Moody (Jr.) – Madisonville
OL – Chet Cretsinger (Sr.) – Marshall County
OL – Henley Barnett (Sr.) – Mayfield
OL – Max Wilson (Sr.) – Graves County
DEFENSE
DL – Brady Smith (Sr.) – Mayfield
DL – Sebastian Lawrence (Soph.) – Murray
DL – Jase Polley (Sr.) – Christian County
DL – Amarion Patterson (Sr.) – Paducah Tilghman
LB – Cody Goatley (Jr.) – Graves County
LB – Colbe Crim (Sr.) – Paducah Tilghman
LB – Lincoln Sisk (Sr.) – Union County
DB – Connor Guthrie (Sr.) – Mayfield
DB – Trel Riley (Sr.) – Caldwell County
DB – Jameer Riley (Sr.) – Caldwell County
DB – Malachi Kirby (Sr.) – Paducah Tilghman
K – Micah Haley (Jr.) – Mayfield
P – Lance Butler (Sr.) – Paducah Tilghman