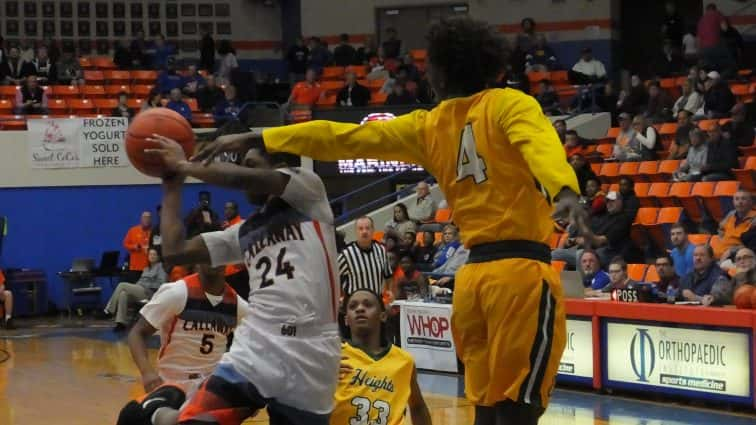 We are a week and a half into the new basketball season, and even though it is early, we are starting to see a few trends as to how things might shape up in the 2nd Region this season. It also appears that the defending region champions will be a tough one to knock off their thrones. With all of that said, here is our second edition of the YSE Boys 2nd Region Super 7 for the season.
1. UHA (4-0) – The Blazers pulled off an impressive rally against Callaway at the Hoopfest, and then disposed of Doss at Muhlenberg County. THEN, for an encore, the Blazers put 110 on the board against Todd Central. They take a firm grip on the #1 spot this week.
2. Madisonville (2-1) – The Maroons dropped a game to a very very good Belleville West team at Hoopfest. They rebounded nicely by traveling to Muhlenberg County and taking down the Mustangs by 15 on their home court. Mark it on your calendars, the Maroons travel to UHA December 13th.
3. Henderson County (2-0) – The northern Colonels are 2-0 following wins over Whitesville Trinity and North Hardin. After weekend games in Evansville, Henderson takes on Ohio County and Christian County, which should tell us more about just how good this team might be.
4. Hopkinsville (2-1) – After the loss to Tilghman in their opener, Hoptown came back with a tough road win at Kenwood, and then a big home win over Northwest. Over the next eight days, the Tigers take on Christian County, Bardstown, Hopkins Central, and UHA. We will find out a bunch about this team pretty soon.
5. Webster County (3-0) – Jon Newton's Trojans enter the Super 7 this week after starting the season with wins over Crittenden County, Hopkins Central, and Apollo. A trip tonight to Caldwell County should give us some good insight on the direction the Trojans are headed.
6. Christian County (0-1) – Not much action so far this season for the Colonels. They struggled in their opener at McCracken County, but then again, there are a bunch of teams who will not fare will in that trip. Cross town rival Hoptown is on the agenda for tomorrow night. Should give us insight into both teams.
7. Lyon County (2-2) – Tough losses to Butler County and Elliott County. Even tougher is the loss of Gabe Board for 3-6 weeks. How they respond and grow will determine if the Lyons can hold on to their spot in the Super 7.