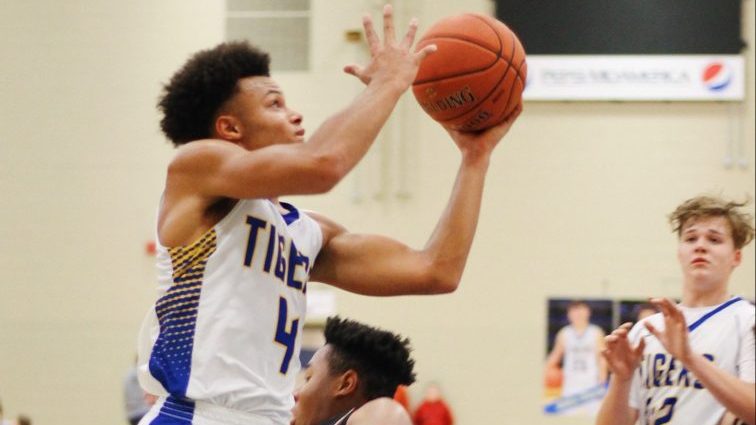 The Caldwell County Tigers appear to have gotten themselves on a little bit of a roll. In heart-stopping fashion Friday night, the Tigers picked up their third win in a row winning at Muhlenberg County70-68 in overtime.
With Derrin Boyd coming out of the gate hot, the Caldwell County Tigers took a 17-14 lead at the end of the first quarter. Boyd scored 11 in the quarter to help get the Tigers to the front.
The game stayed tight throughout the second quarter. Caldwell County was able to extend the lead ever so slighty, taking a 31-27 lead into the locker room at the break.
Caldwell County opened quick in the second half. The Tigers scored the first four points of the 3rd quarter to extend the lead to 35-27. However, the Mustangs would not go quietly on this night. Muhlenberg County battled back and got to the lead. The Mustangs would lead 44-40 headed into the final quarter.
That set up an exciting finish, and some free basketball before the night was over. The game continued to be close throughout the final quarter. Caldwell County trimmed the lead to 53-52 headed into the final minute. The Tigers tied the game at 56-56, with the Mustangs missing two shots in the final ten seconds as the teams headed for overtime.
In the extra period, Caldwell County got to the front and held a four point lead inside the final two minutes. But it was not going to be quite that easy. The Mustangs cut the lead to 69-68, and, after a Tiger free throw with 1.3 seconds left, had a shot from beyond half court rim out at the buzzer, as the Tigers held on for a high tension win.
Derrin Boyd was spectacular with 34 points. John Davis added 12, while Tripp Branch hit double figures with 10. Nolan Davis led Muhlenberg County with 19, however he was held scoreless in the overtime.
Caldwell County now moves to 3-2 on the season and will host Paducah Tilghman Thursday in the opening round of the Class 2A regional.