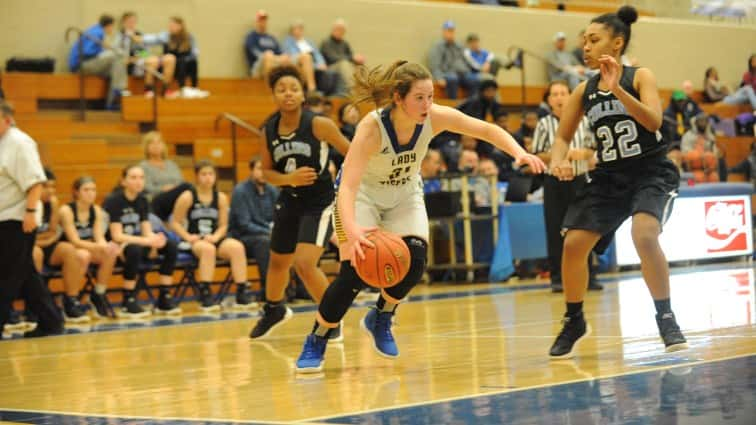 Caldwell County's girls rallied from 12 points down to take the lead in the second half against Collins. But the Lady Tigers couldn't keep their run going, falling 67-51 to the 8th Region school on the opening day of the West Kentucky Hoops Classic in Princeton.
Down 25-13 in the second quarter, Caldwell (5-6) pulled to within 30-26 at halftime against the taller Lady Titans (7-6). The Lady Tigers then edged ahead 33-31 following two free throws from Jada Boyd early in the third period.
After Collins got the lead back, Caldwell went in front again when Morgan McDaniels made a spin move in the lane and scored. She was fouled on the play and completed the three-point trip to push the Lady Tigers in front 40-39 with 3:05 left in the third quarter.
But Collins' full-court pressure and height advantage wore on Caldwell as the game played on.
The Lady Titans took a 47-44 lead to the final frame.
Caldwell was still within 49-46 after Jacey Jaggers hit two free throws with 7:04 to play. But Collins answered with a 16-0 run to finally lock down the contest.
Junior Olivia Federle scored eight of her game-high 27 points during the deciding run for Collins, which is located in Shelbyville. Federle also grabbed eight rebounds.
Jeian Hayes added 15 points for the Lady Titans while Mary-Clare Megibben had 14 boards and six points. Megibben also blocked seven shots and altered countless others.
Jaggers had 24 points to pace Caldwell. Bella McConnell added 12 points and 13 rebounds.
The Lady Tigers will play again on Friday in the West Kentucky Hoops Classic, facing Ballard Memorial at 3:30 p.m.