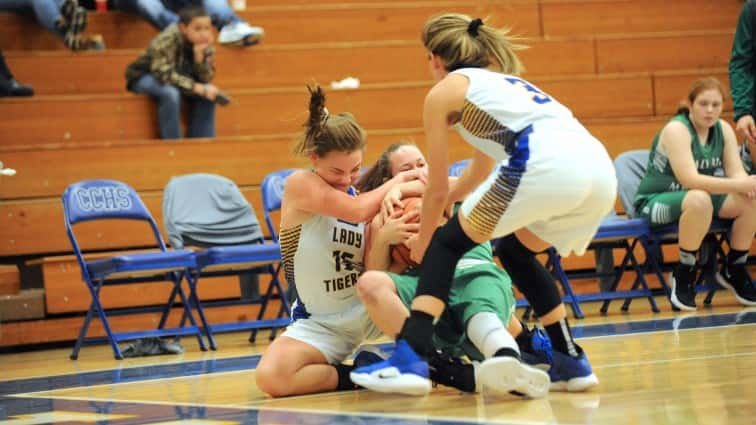 Caldwell County's girls will carry a .500 record into the new year.  The Lady Tigers improved to 6-6 on Friday by running past Ballard Memorial 59-28 in the West Kentucky Hoops Classic in Princeton.
A 16-2 run in the first half helped Caldwell subdue the Lady Bombers (3-10).  Ballard, from the 1st Region, had tied things at 13-13 when Abby Tyson banked in a 3-pointer with 1:11 left in the opening stanza.
But Caldwell's defense allowed just one made field goal the rest of the first half as the Lady Tigers built a comfortable margin by halftime.
Bella McConnell's basket from in close capped Caldwell's run and made it a 29-15 ballgame with 1:14 left in the first half.
After a pair of free throw by Ballard's Ilyssa Holdman, the Lady Tigers got a short jumper from McConnell and a putback by Morgan McDaniels to get to halftime with a 33-17 advantage.
Ballard was held without a field goal in the third quarter as Caldwell used a 13-2 advantage in the period to go up 46-19.
Both teams went to their benches in the final frame as Caldwell went on to win by 31 points.
McConnell had 17 points and seven rebounds to lead the Lady Tigers while Jacey Jaggers added 15 points. Jada Boyd had seven points and five boards for Caldwell.
Holdman was the high scorer for Ballard with nine points.
The Lady Bombers were forced into 18 turnovers in the contest and made just 8 of 35 field goal attempts (22.9 percent).
Caldwell's win ended a four-game losing skid, albeit against some stout competition in both the Marshall County Lady Marshal Holiday Classic and Caldwell's own West Kentucky Hoops Classic.
The Lady Tigers are now off until a Thursday, Jan. 3, 7th District date at Dawson Springs.