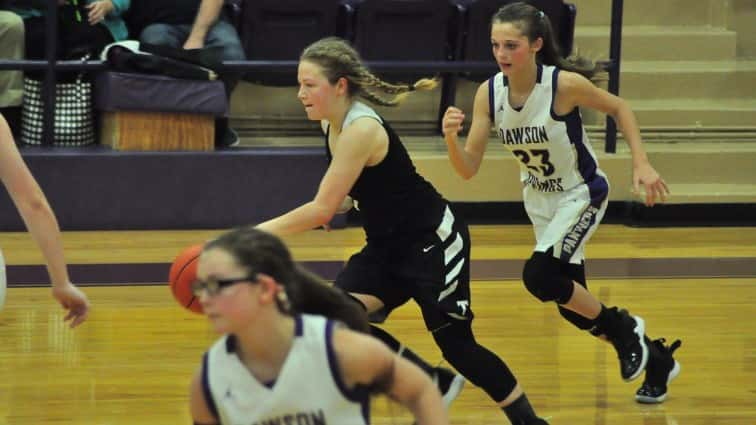 Cory Coble has been waiting for his Trigg County basketball team to gel at the right time. After a 52-42 win at Dawson Springs Monday, he feels like it's coming sooner than later.
The Lady Wildcats put together a 20-5 second quarter run to build an 18-point halftime lead and then hit some clutch shots down the stretch when Dawson Springs made a run to cut the deficit to 10 points.
Up 10-7 after one quarter, Trigg went on a 14-0 run midway through the second quarter and built a 27-10 lead. Six different Lady Wildcats scored buckets during the run. Trigg extended the lead to 30-12 at halftime, their largest margin of the game.
Dawson Springs began to cut into the lead in the third quarter as 8th grade guards Brooklyn Clark and Kire Peyton hit 3-pointers and Erin Orten and Trinity Rudolph had buckets to make the score 37-25 after three quarters.
Dawson Springs got to within nine points early in the fourth quarter, but a DeDe Barbee layup and Katelyn Slone 3-pointer pushed it right back to 14 points.
The Lady Panthers again cut the Trigg lead to nine points, but an Emily Noffsinger 3-point play with 1:59 made the score 48-36 and sealed the win.
Trigg also kept Dawson Springs at bay by hitting 6-of-7 free throws in the fourth quarter.
Slone knocked down four 3-pointers for 12 points for the Lady Wildcats. Bethany Stallons added 10 points and a season-high eight rebounds, and Rylee Bush scored eight points and 11 rebounds. Trigg County hit 7-of-18 three-pointers in the contest.
Clark finished with 16 points for the Dawson Springs (5-9), with Erin Orten adding 10 points and 11 rebounds.
Trigg County (7-10) will play at Crittenden County Friday with first place in the Fifth District on the line.