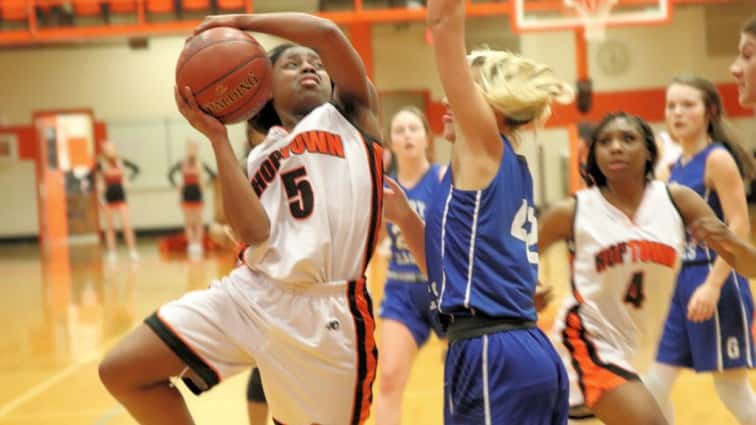 On a night when Hopkinsville's Breon Oldham was honored for recently scoring her 1,000th career point, it was Graves County's Sophie Galloway that stole the show. The sophomore recorded a triple-double to pace the First Region Eagles past Hoptown 40-31 Tuesday at Tiger Gym.
Galloway, a state champion in the long jump and triple jump, had 10 points, 12 rebounds, and 14 blocked shots. The 14 blocks are a new school record at Graves, according to Mayfield-Messenger Sports Editor Eric Walker.
The teams were tied 9-9 after one quarter, but Graves used a 13-4 second quarter run to grab a 22-13 halftime advantage. The Lady Tigers could not make up any ground in the second half thanks to the Lady Eagles clamping down on defense.
Raychel Mathis led Graves County (12-5) with 13 points, and Callie Jackson added 12 points. The win was Graves County's second over Hoptown this year.
Oldham scored 11 points to lead Hopkinsville, and Jayla Rose added eight points.
Hopkinsville (12-9) has lost four of five and will play Christian County Friday.