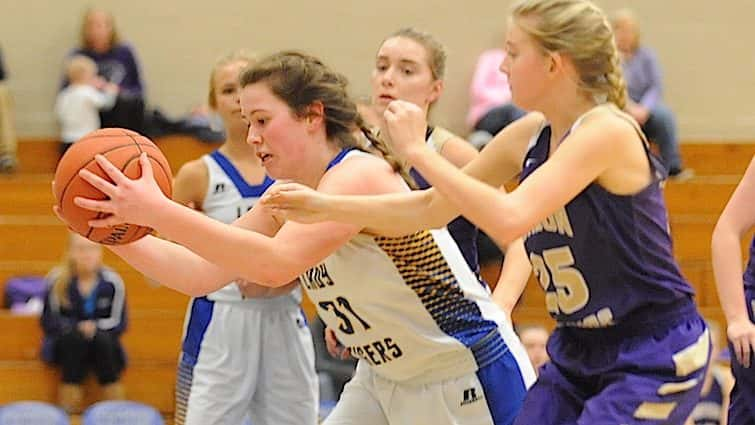 Caldwell County's girls ran out to a 28-6 lead in the first half and went on to rout Dawson Springs 60-34 Thursday night in 7th District action at the CAB gym in Princeton.
Peyton Young hit four 3-pointers in the first half for the Lady Tigers, who trailed only 2-0 before blitzing Dawson with a 28-4 run.
Caldwell is now 11-13 overall and 3-3 in district play.
The Lady Panthers (9-16, 0-6) could never recover after Caldwell's early onslaught.
Caldwell reached the 35-point margin for the running clock mercy rule on Karsyn Parker's stickback with 2:18 to go in the third period. That made it 54-19.
The Lady Tigers took a 56-21 advantage to the fourth quarter on the way to the 26-point triumph.
Caldwell also beat the Lady Panthers 40-19 on Jan. 3 in Dawson Springs.
Young finished with 14 points to lead the Lady Tigers while Jacey Jaggers had 10 points and 11 rebounds. Bella McConnell tallied nine points and 10 boards. Jada Boyd had eight points and four assists. Morgan McDaniels scored seven points and Parker had six points and seven rebounds for Caldwell.
Brooklyn Clark scored 15 points for Dawson Springs. Abby Ward added six points.
The Lady Tigers will be the No. 2 seeds for the 7th District tournament and will face host Hopkins County Central, the No. 3 seed, when postseason play gets underway. Dawson Springs will be the No. 4 seed and will meet top-seeded Madisonville-North Hopkins.
Caldwell's girls will play on their home court again on Friday, hosting Trigg County for a Homecoming boys and girls doubleheader. The Homecoming ceremony will be held at 5:30 p.m. with the boys game at 6 p.m. The girls contest will start around 7:30.
Next up for Dawson is a home date against Ballard Memorial on Saturday afternoon.