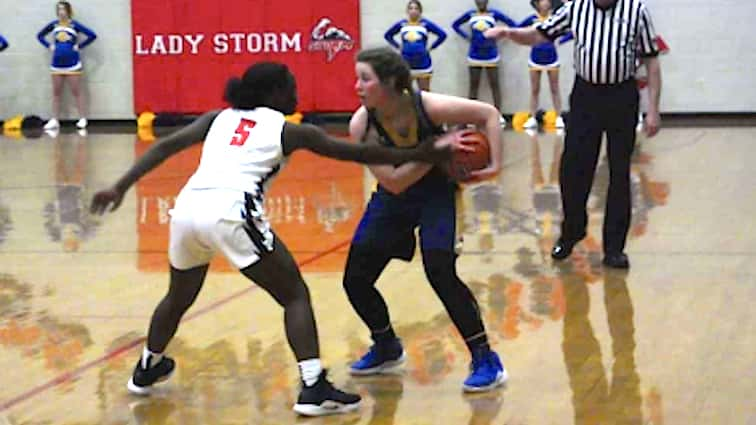 With their season on the line, Caldwell County's girls came up with a big run when they needed it most.
Down 36-30 to Hopkins County Central with less than 6 minutes to play in Tuesday's 7th District semifinals in Mortons Gap, the Lady Tigers ran off 11 straight points to turn the game around.
Caldwell (13-14) then held on for a 47-45 victory, outlasting the Lady Storm in a physical battle in the district tournament.
Jada Boyd's 3-pointer with 5:29 to play got the Lady Tigers started. Karsyn Parker followed with a basket from in close, then Bella McConnell made one of two free throws at the 4:22 mark to tie things at 36-36.
A 3-pointer by senior Peyton Young pushed Caldwell in front with 3:35 remaining. Jacey Jaggers then scored on a putback with 3:19 to go as five different Lady Tigers scored during the spree.
That gave Caldwell a 41-36 advantage.
The Lady Tigers led by six, 46-40, after two free throws from Young with 32 seconds to go.
But Hopkins Central (12-16) kept its hopes alive when Keri Reynolds nailed a 3-pointer with 16 seconds remaining.
Majah Hollowell made the first of two free throws with 15 seconds left to make it a four-point game, 47-43.
But the Lady Storm weren't finished. A driving layup by Somaya Stafford cut the gap to two and Hopkins Central called timeout with 4.1 seconds still showing.
However, on the inbounds play, Caldwell got the ball into Jaggers. Jaggers was able to avoid being fouled, and ran out the clock to send the Lady Tigers to the district championship game with its 47-45 triumph.
Jaggers finished with 15 points and five rebounds for Caldwell, which will get the chance to defend its 7th District title on Friday. But the second-seeded Lady Tigers will meet top-seeded Madisonville-North Hopkins in the finale at 6 p.m. at Hopkins County Central High School.
The Lady Maroons (21-7) used a strong second half to dispatch Dawson Springs 66-50 in Tuesday's first semifinal game.
Madisonville defeated Caldwell twice during the regular season, rolling by 35 on its home court but having to hold on for a 69-66 decision in the rematch in Princeton.
Both Madisonville and Caldwell have earned berths in the 2nd Region tournament next week at Crittenden County.
Young and Boyd each added eight points for Caldwell in the win over Hopkins Central. McConnell had seven points while Parker finished with nine rebounds to go with four points.
Maddie Tow led the Lady Storm with 11 points. Stafford had eight and Keke Ikeard finished with seven.