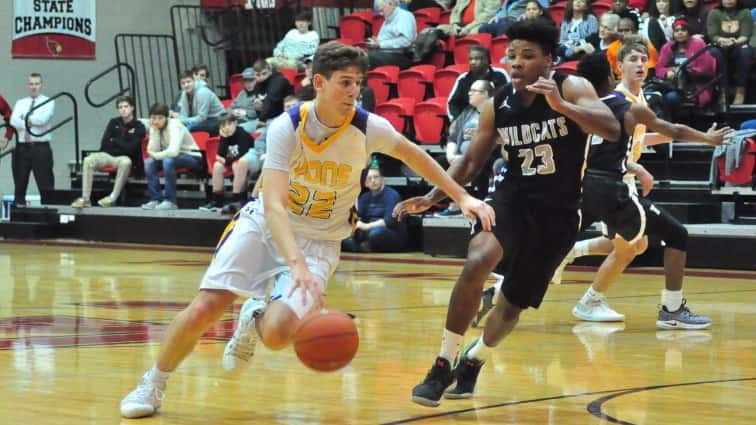 Trigg County's season-long offensive woes were front and center Monday as they lost to Lyon County 56-36 in the semifinals of the boys' Fifth District Tournament at Livingston Central.
The Wildcats shot just 32-percent from the field and missed 12-of-13 shots behind the arc against the Lyons, who outscored Trigg 37-17 in the middle two quarters.
The first quarter featured five ties and a lead change as Trigg attacked the Lyon County zone and was able to forge a 10-10 after the first eight minutes.
In the second quarter, the Wildcat guards stopped attacking the zone and tried to float passes over the defense. The result was five turnovers in the quarter that led to a 10-0 Lyon County run and a 22-12 lead. Trigg got no closer than eight points the rest of the game.
The Wildcats trailed 27-16 at halftime and saw Lyon build a 47-27 lead after three quarters. Any comeback attempt was thwarted by Lyon County shooting 59-percent from the field in the second half. Lyon County outscored the Wildcats 38-16 in the paint.
Trigg's inability to finish also kept their comeback in check as the Wildcats missed 10 shots in the paint.
Lyon County put three players in double figures. Travis Perry and Jackson Shoulders each scored 15 points. Perry added five rebounds, and Shoulders had 10. Gabe Board scored 13 points and contributed six rebounds and five steals. Gabe Defew scored six points despite suffering a broken nose.
Kendric Adams led Trigg County with nine points and eight rebounds. Kion Thompson came off the bench to score eight points, and Jakobe Bridges scored six points.
After winning four straight district titles, Trigg County has lost three straight first round games to Lyon County. The 36 points scored is their fewest in the district tournament since a 48-36 loss to Francis in 1949.
Trigg's season ends with a record of 11-17. It was the seventh time Trigg failed to score 50 points in a game.
Lyon County improved to 20-9 with the win, hitting the 20-win mark for the first time in nine years. The Lyons will play Crittenden County in the district championship Thursday at 6:30.