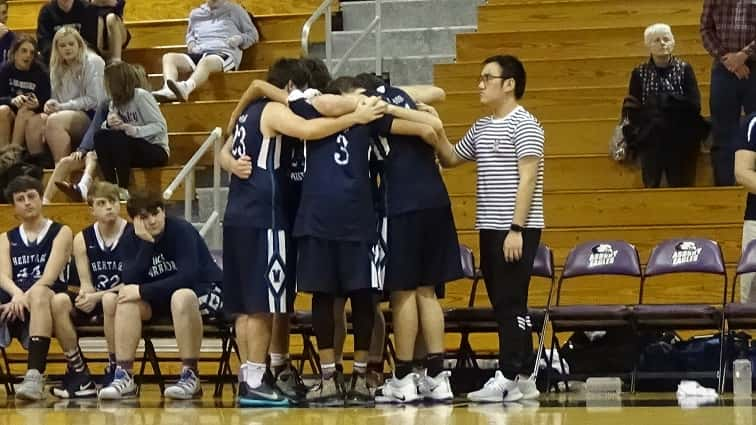 Back in the KCAA state-title game for the first time since the 2012/13 season, the Heritage Christian Academy boys' basketball team roared out of the gate to take an early lead over top-seeded Somerset Christian.  However, the Cougars superior size took its toll over the course of the game, and the Warriors fell 70-60 Saturday night at Asbury University.
Austin Crawford came out hot and buried 3-pointers on back-to-back trips to give the Warriors an early 10-4 lead and force a Somerset timeout.  Dalton Folz added another 3 for the Warriors, but the Cougars battled back to take the lead at 14-13 after a 3-pointer by CJ Roush, and the teams were knotted at 15-15 after the first quarter.
The teams battled back-and-forth over the first half of the second quarter, and the game was tied at 24-24 after a Folz 3-point play.  Crawford drained his third 3 of the first half to give the lead back to the Warriors, but the Cougars closed the half on an 11-2 run, capped by a bucket by Mason Cunnigan, the last of his 14 first-half points.
Somerset continued to build the lead after the break, opening up its first double-digit advantage at 45-35 with 4:29 to play in the third.  HCA's Josh Jones drilled a 3 to trim the margin to 7, but the Cougars responded with a 6-0 run.  Jones and Gavin Fowler both connected from deep to get the margin back to single digits, but Roush was fouled on a 3-point attempt at the buzzer and hit 2 of 3 free throws for an 11-point Somerset cushion going into the fourth.
The lead hovered around 10 points until Cunnigan was assessed a technical foul, giving the Warriors 2 free throws and the ball.  Fowler hit 1 of 2 from the line, before scoring on an acrobatic finger roll to pull HCA to within 7 with 5:23 to play.
Fowler continued to attack the Cougar defense, scoring 4 straight on a fall-away jumper and a driving layup to make the score 61-56 and force a Somerset timeout.  But with the Warriors needing to foul to stop the clock, Jon Moore went 4-4 from the line to seal the 10-point Cougar victory.
After a slow start, Fowler got going with 17 points in the second half to lead the Warriors with 20.  Mills finished with 14, and Folz scored 11 before fouling out late.
Cunnigan's 21 led the Cougars, followed by Jon Moore with 18, Roush with 15, and Tristan Moore with 12.